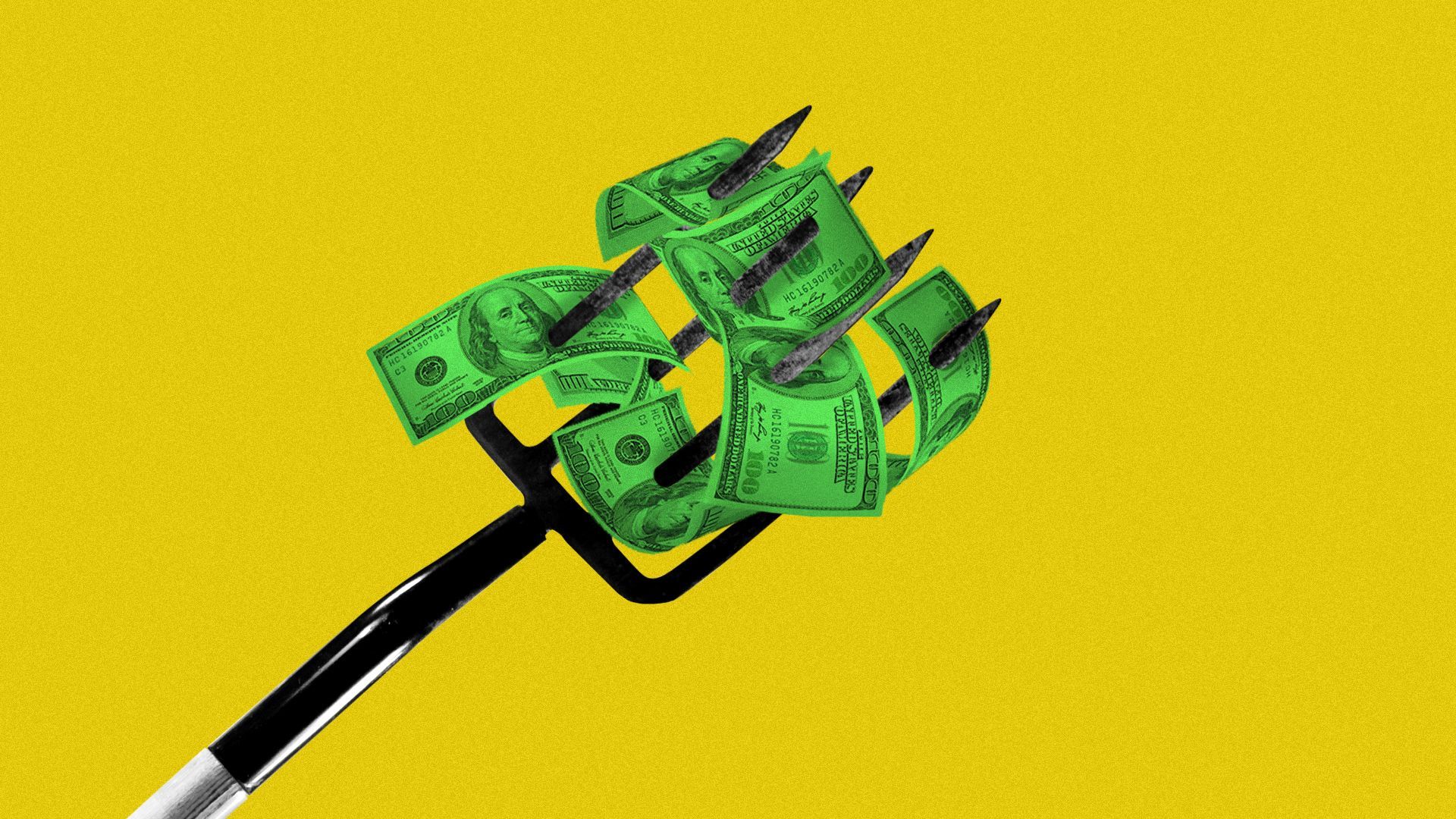 Illustration: Aïda Amer/Axios
Farmers of color are calling on lawmakers this Congress to invest in equitable land access for the next generation.
The big picture: They're looking to the farm bill as a funding gateway to mitigate the federal government's historic role in fueling racial disparities in farming and food sovereignty.
In a first look for Axios, Holly Rippon-Butler, land campaign director at the National Young Farmers Coalition, says the coalition is relaunching its One Million Acres for the Future Campaign.
The campaign is pushing for $2.5 billion of federal funding allocated over 10 years through the farm bill to make land access more equitable.
This includes funding community-led land access projects, ensuring that USDA programs are accessible to communal land ownership and expanding programs that prevent continued land loss for communities of color.
"Farmland is so expensive because non-farmer buyers are outcompeting farmers, which then decreases the amount of available land, which then in turn becomes even more expensive. It's a feedback loop," Rippon-Butler tells Axios.
State of play: In August, the USDA announced up to $550 million in funding for projects for underserved farmers — with $300 million made available for land access initiatives — which the group considers a sign that the farm bill could be the first to focus on equity.
With the farm bill, advocates are being warned that "it'd be really an uphill battle to get a new program or to get new funding," says Rippon-Butler.
"[But] farmers are in crisis in terms of land access, and there's a lot of losing hope, there's a lot of just inability to continue in this line of service and work, that has gotten really more intense over the last couple of years."
What they're saying: TemuAsyr Martin Bey, a farmer and advocate from Compton, California, tells Axios that despite the barriers to entry around acquiring and operating land, he's seeing a "surge" of young people of color who want to produce their own food.
According to the 2017 Census of Agriculture, collected once every five years, only 8% of farmers in the U.S. are under the age of 35.
The 34-year-old says he first started farming in a community garden, and ever since, he's worked to mitigate food insecurity and create opportunities in agriculture for Black farmers like himself through urban farming projects.
"Number one, we need to get land. It is the foundation of everything," Bey tells Axios. "We still are fighting for the resources that should naturally be ours in the first place, as taxpaying, hard-working American citizens."
Zoom out: Between 2012 and 2014, 98% of U.S. farmland was owned by white landowners, while only 1.4% of all producers were Black, per 2017 data.
This is largely due to historic dispossession and a legacy of racial discrimination in federal farm assistance, with Black producers losing an estimated $326 billion worth of acreage in the 20th century.
What we're watching: Last month, Sen. Cory Booker (D-N.J.) and Rep. Alma Adams (D-N.C.) reintroduced the Justice for Black Farmers Act (JBFA), a bill put forward in 2020 and 2021 that did not advance.
Provisions include establishing an independent civil rights board at the USDA, land grants and training for Black farmers and funding for agriculture initiatives at HCBUs, as well as boosting existing programs for farmers of color.
It is expected to become a "key marker bill" for the farm bill, according to the Union of Concerned Scientists.
"[JFBA] will address decades of well documented discrimination by USDA against Black farmers and ranchers and aims to empower a new generation of Black farmers," Booker tells Axios in a written statement. "Remedying these historic wrongs should not be a partisan issue."
Meanwhile: A first-generation Black-Indigenous urban farmer, Detra Iverson tells Axios that her community donated money to help her purchase less than half an acre of land last year after she struggled with USDA funding.
"As a farmer, I don't need seeds. I know where to get seeds from. I need enough capital to ensure the infrastructure and the operations and the systems of my business continue," says Iverson, a community herbalist and owner of the Love N Labor Botanicals Farm in Detroit, Michigan.
The bottom line: "I want to make sure that for all the work I'm putting in, that I'm at least being able to, like live and keep my lights on, and not have to worry about whether or not I'm going to be able to buy my kid a new pair of shoes or not," Iverson tells Axios.
"There's a lot of barriers that are out here, not only just in the work that I do, but just as people of color growing up in the world that we live in today. And farming, it's our way to live free."
Source: Read Full Article