Washington: Economists say the rolling economic catastrophe brought on by the novel coronavirus is already hurting President Donald Trump's chances of winning a second term.
It's shredding Trump's key reelection pitch – that he has unleashed unprecedented prosperity – just as former vice president Joe Biden effectively sealed the Democratic presidential nomination.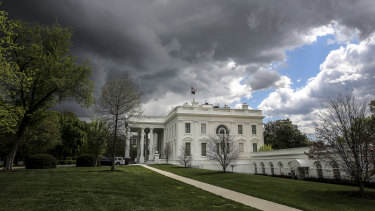 Storm clouds gather above the White House in Washington.Credit:Bloomberg
Oxford Economics, for one, now sees Trump on track to secure about 43 per cent of the popular vote.
That's a collapse from the firm's October call that he stood to win 55 per cent of the vote.
Still, it's an open question whether the economy will ultimately doom Trump in November. These economists who use macroeconomic data to forecast election outcomes caution that even as job losses surge and the signs of recession deepen, the conditions that will help frame voters' decisions can still swing dramatically in the months before the election.
Can he talk his way out of this crisis? US President Donald Trump speaks during a Coronavirus Task Force news conference.Credit:Bloomberg
Oxford's revised prediction flows from the firm's latest GDP forecast, released Wednesday: It sees gross domestic product declining by roughly 4 per cent this year. And Gregory Daco, chief US economist for the firm, says he expects unemployment will "linger in the vicinity of 10 per cent" into the northern autumn.
The firm's election forecasting model leans heavily on three variables – unemployment, inflation and real disposable income growth.
Of those only inflation, tamed by collapsing oil prices, has been trending in Trump's favour, and "it's not enough to offset the hit from unemployment and income," Daco says.
The firm has yet to update its electoral college projection, which in January showed Trump losing even amid a relatively strong economy if Democrats simply replicated their turnout in the 2004, 2008 or 2016 elections.
Source: Read Full Article