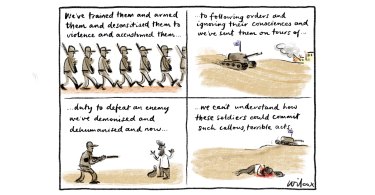 Credit:Illustration: Cathy Wilcox
To submit a letter to The Age, email [email protected] Please include your home address and telephone number.
CORONAVIRUS
A lesson that we must not become complacent
The outbreak from a quarantine hotel in South Australia should not surprise anyone. We have seen healthcare workers contract the virus in hospitals and other controlled settings. We need to learn from this and be super cautious if Victoria is to accept international arrivals. We need to assume that any incoming person is highly infectious until proven otherwise and ramp up the infection control measures for these people. The suggestion of self-quarantine at home is very dangerous unless it can be guaranteed that no one (including other residents) leaves the premises or visits during the quarantine period and that infection control is equivalent to an infectious disease hospital ward.
Phill Johnstone, Warrandyte
Danger in allowing workers to return home each day
Surely it has become obvious. COVID-19 enters Australia via returning overseas travellers. This needs to be managed at a national level. Returning Australians need to be isolated at purpose-built facilities with dedicated workforces for the 14-day quarantine period. The workers must remain on the premises rather than returning to their families or other employment each day.
Jan Morgan, Myrrhee
Doing everything we can to avoid more lockdowns
What is the point of the plan to test staff at quarantine hotels and other facilities once a week? If a worker leaves work with the virus, a lot of people can be infected during those seven days. Surely it would be better to test workers at the end of their shifts and ensure they have the result before they begin their next shift. I, along with the rest of Victorians, do not want another lockdown that could have been avoided with appropriate testing of quarantine staff.
Roger Goldsmith, Hawthorn
All states are vulnerable to another outbreak
I watched the news footage of long queues of people waiting for a coronavirus test in Adelaide and found the lack of testing sites concerning. It suggests there has been a complacency in Australia regarding the seriousness of this pandemic. The states need to maintain resources and not sit back when case numbers are low. If this outbreak happened in South Australia, seemingly out of nowhere, then we are all vulnerable.
Teresa McIntosh, Keysborough
Will the federal leaders criticise a Liberal state?
I wonder how soon Scott Morrison, Josh Frydenberg and Greg Hunt will come to the conclusion that they know better than South Australia's Chief Public Health Officer and start advising the Premier, Steven Marshall, when to lift restrictions. I expect Mr Marshall will be aware, as was Dan Andrews, that his medical experts know more about how to manage their COVID-19 outbreak than self-serving politicians do. Of course, Mr Morrison and co may not be so tempted to advise and criticise a state leader of their own political persuasion.
Laurie Martin, North Croydon
An outbreak of asthma, or maybe a convenient lie
It appears there is an epidemic of asthma, particularly among the younger people in Victoria. When they are asked to put on a mask, their response is: ''I suffer from asthma''. It is so sad that everyone in a group of 10 or more has this. And even worse, there are so many groups in our streets and parks.
Rhonda Ward, Mont Albert
Carrying my certificate to explain why I am maskless
In reply to Cecilia Godwin (Letters, 18/11). Being deaf, I have two cochlear implants. Wearing a mask caused the sound processors, worn behind each ear, to become dislodged – risking them falling off and becoming lost – so I obtained a medical exemption from my doctor. I carry this certificate with me and also wear a little label saying, ''I have medical exemption from wearing a mask. Medical certificate available on request.'' It has enabled me to enter shops, banks, government offices etc and I have had no hostile reactions from members of the public.
Kaye Gooch, Prahran
AND ANOTHER THING
Credit:Illustration: Matt Golding
Coronavirus
How much toilet paper could you possibly need in six days?
Mary Edgerton, Port Melbourne
Is there a ratio of the number of tattoos on someone to the inability to wear a mask? Or is this only in regional Victoria?
Shane Gunn, Heathcote Junction
Eight months on and still no federally run, remote quarantine facility. Talk is cheap. Criticism of states even cheaper.
Lou Piscopo, Ascot Vale
How long before the Murdoch media blames Dan Andrews for the outbreak in SA?
Grant Nichol, North Ringwood
Politics
Morrison's trip to Japan would have made more sense if we had bought their submarines.
Geoff Hall, Mentone
We may have to do without China's cheaper imported goods. Good. Buy ''Australian made'' and save our nation.
Neville Wright, Kilcunda
Trump's refusal to concede is an act of commission, not omission.
Stephen Dinham, Metung
The number of people whose CVs have ''Fired by Trump'' on their list of achievements continues to grow.
Chris Appleby, Fairfield
NASA wants to send people to the moon by 2024. Could I suggest the first passenger to go (one way): Trump.
Richard Wilson, Croydon
Furthermore
Unions (18/11), remember: Together we stand, divided we fall.
Glenise Michaelson, Montmorency
I was excited about ''Gunners set to tour next year'' (19/11) until I realised it wasn't Arsenal Football Club but some rock group.
Bill Pell, Emerald
Eddie's explanation of Collingwood's trade moves makes me wonder if they are the AFL's new ''Pivotonians''.
Peter Venn, Bentleigh
Memo to crossword compiler DP (18/11). Word for word is ''verbatim''. ''Literatum'' is letter for letter.
Ian Grandy, Nunawading
Most Viewed in National
Source: Read Full Article