It's no secret that Netflix has been murdering the true-crime game for a while now. From Making a Murderer to Conversations With a Killer, each show has absolutely been slaying us. Today brings us a new four-part documentary series called The Alcàsser Murders, which explores the still-unresolved 1992 murder of three teenagers dubbed the Alcàsser Girls. With new interviews and analysis, it's also Netflix's first Spanish original documentary—so felicitaciones, Netflix. Here's everything you need to know about the horrifying true story behind the show.
What happened?
In November 1992, three girls went missing while hitchhiking on the way to a club in the Valencia region of Spain. Miriam García Iborra, Antonia "Toñi" Gómez Rodríguez, and Desirée Hernández Folch were dropped off at a gas station by a couple and then picked up by another car. From there, the exact details get a little sketchy.
The girls' bodies were found in January 1993, showing signs of having been kidnapped, tortured, and raped before being murdered. The murders have been renowned as one of the most brutal in Spanish history.
Who did it?
So, this isn't really clear. One suspect is Antonio Anglés Martins, whose brother's name was on a note found near the bodies. He's avoided the police ever since.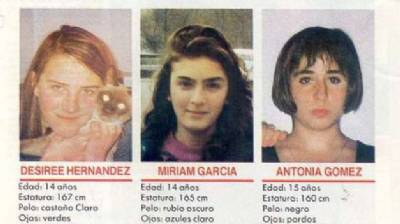 However, one of Anglés' alleged accomplices, Miguel Ricart, was caught. He told the police that Anglés, himself, and an unidentified third man had kidnapped the girls and tortured them over a two-day period. He was released from prison in 2013, and it's not clear where he is now.
Why did the case make global news?
The lack of evidence combined with the brutality made the case a huge mystery across the world. Some say the police massively mishandled the evidence in the case, and DNA evidence from the girls' pubic hairs showed yet another unidentified potential criminal involved.
Isabel, una de las vecinas de Valencia de 'Callejeros', aparece en 'El caso Alcàsser' de Netflix https://t.co/Rrox2H4hK0 pic.twitter.com/5aSAxfqdzJ
Graphic photos from the crime scene have also made their way into the public domain, which some say is disrespectful to the girls and their families. For obvious reasons, we won't be showing those pictures here.
What are the theories?
As shown on the site Unresolved.me, there are a *ton* of theories about what really happened to the girls that fateful night. These range from the casual armchair detectives (were the girls really going to a club that night?) to the downright insane (the murders were committed for a snuff film commissioned by a cult!).
There are also a whole lot of rumors surrounding the major suspect, Anglés. Some say he has fled Spain, either as a stowaway in a boat or using his Brazilian passport. Others say he was framed for the crime entirely.
Either way, we're hoping the Netflix documentary will shed some much-needed light on this case ASAP.
Source: Read Full Article