Outlander star Sam Heughan just celebrated the seventh anniversary of his debut as Jamie Fraser. The Starz time-traveling drama premiered on August 9, 2014, and quickly became an addiction for many fans.
For five seasons so far, Heughan and his co-star Caitriona Balfe (Claire Fraser) have had a number of stand-out moments as their characters experience love and loss across two different centuries.
Here are our picks for Heughan's 10 best moments as Jamie Fraser, in no particular order.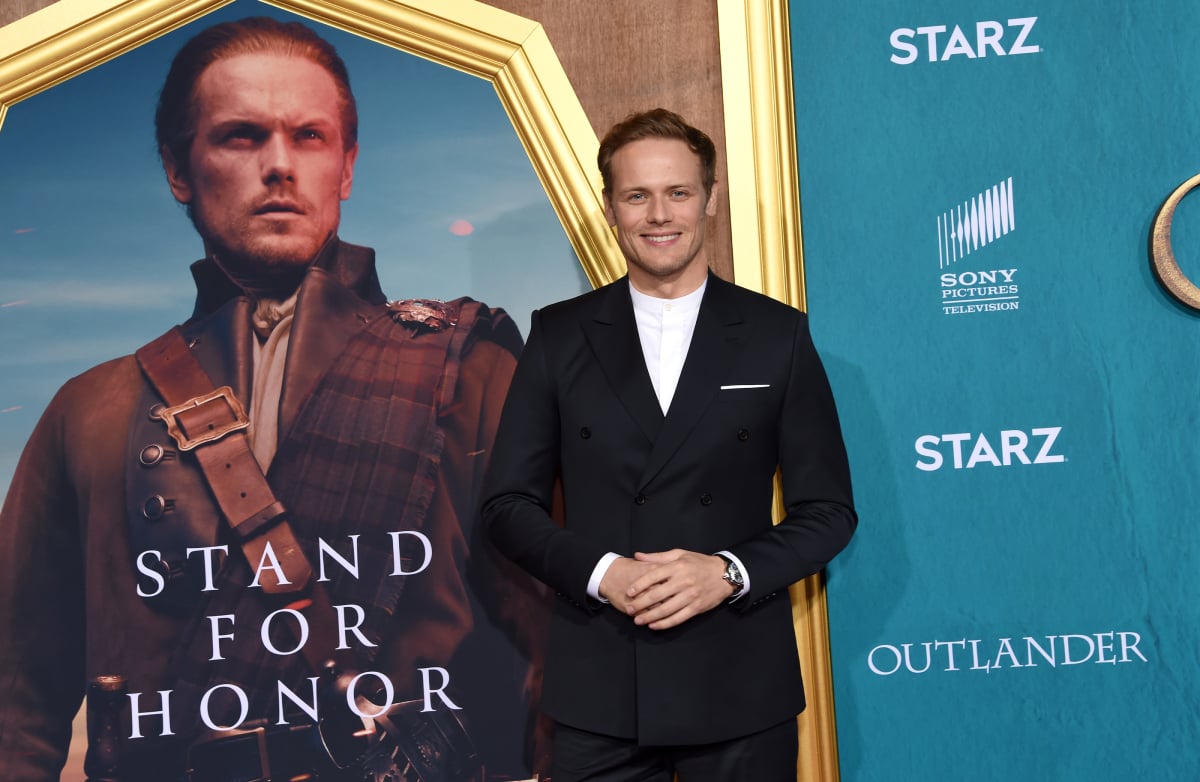 10. Sam Heughan had 1 of his best moments in the 'Outlander' pilot
When Claire is found wandering through the woods after going through the stones at Craigh na Dun, she soon meets Jamie. They end up having their first horse ride together when Jamie puts Claire on his horse to help keep her warm. He's been shot and ends up falling off, while Claire doesn't trust him at all. However, the sexual tension between them is already evident.
9. Jamie finally meets Brianna
Jamie didn't get the opportunity to raise Brianna (Sophie Skelton) because she was born in the 20th century. Instead, she grew up thinking that Frank (Tobias Menzies) was her father. All of that changes in season 4, though, when Brianna travels back in time to find Jamie and Claire.
When he first sees her in episode nine "The Birds & the Bees," Jamie doesn't realize who she is. But the moment he does is one of Heughan's absolute best as Jamie, thanks to the bittersweet joy on his face — a mixture of horror and excitement.
8. Sam Heughan's Jamie begs Caitriona Balfe's Claire for forgiveness
Season 1, Episode 9 is a memorable one for many fans because it included a controversial storyline that saw Jamie spank Claire. And not in the consensual BDSM type of way. When Claire lays down the law — with knife in hand — and tells him that's not how things are going to be, Jamie ends up realizing his error and begging for forgiveness at her feet while holding that knife to his heart.
"If ever my hand is raised in rebellion again then I ask that this holy iron may pierce my heart." He goes on, "You are my home now…I want you so much I can scarcely breathe. Will you have me?" he asks.
7. Claire sees Jamie's scars for the first time in 'Outlander' episode 2
In Season 1, Episode 2, Claire ends up at Castle Leoch with Jamie. Who at this extremely early point in the series is still very young, quiet, reserved, and conflicted. His vulnerable side came out for the very first time when Claire treated his arm and noticed the brutal scars on his back.
This pivotal moment between Jamie and Claire is the first time he opens up to her, and tells her the story behind his scars.
6. Jamie rides away from Willie at Helwater
Claire is back in the 20th century during season 3 while Jamie is at Helwater, and he ends up fathering a child. To protect his son Willie's inheritance, Jamie can't tell him the truth about his paternity. However, they do end up developing a close relationship.
Unfortunately, Jamie starts to worry that Willie's resemblance to him will cause problems. So he decides to leave his son with Lord John Grey (David Berry). The pain in his eyes as he refuses to look back while he rides away is a gut-wrenching moment for fans.
5. Sam Heughan's Jamie duels Tobias Menzie's Black Jack Randall
In the season 2 episode "Best Laid Schemes," Jamie is in his feelings after coming face-to-face with Black Jack Randall for the first time since Wentworth Prison. Heughan's fierce performance in this episode will keep your eyes glued to the screen, as he agrees to duel Black Jack despite Claire's objections. For a brief moment, Jamie feels vindicated before he gets arrested.
4. Jamie and Claire's awkward-turned-hot wedding night
One of the best episodes of the entire series, Season 1, Episode 7 "The Wedding" features Jamie and Claire awkwardly consummating their marriage. Jamie is a virgin, while Claire is a woman who owns her sexuality.
Despite starting out awkward, the intimacy of the scene is beautiful to watch. It's the first indication that Jamie and Claire's connection is incredibly strong.
3. Murtaugh dies in Jamie's arms in 'Outlander' season 5
Jamie's godfather Murtaugh (Duncan Lacroix) was one of the most important people in his life, and their bond had never been broken. But in Season 5, Episode 7 "The Ballad of Roger Mac," Jamie experiences an unbearable loss when Murtaugh dies in his arms during the Battle of Alamance, while fighting on opposite sides.
2. Jamie and Claire part before the Battle of Culloden
In the season 2 finale "Dragonfly in Amber," Jamie insists that Claire go back through the stones and return to the 20th century for the safety of their unborn child. He believes he will die on the Culloden battlefield, and Jamie can't leave Claire behind in the 18th century without him.
She doesn't want to leave him, but reluctantly goes at his request. They don't think they will ever see each other again, and Heughan's performance brings Outlander fans to tears.
"When I stand before God, I'll have one thing to say against all the rest: 'Lord, you gave me a rare woman, God, I loved her well,'" Jamie says.
1. Sam Heughan gave his most gut-wrenching performance in the penultimate episode of 'Outlander' season 1
The season 1 episode "Wentworth Prison" has Outlander fans wondering why Heughan has not won an Emmy — or has yet to even receive a nomination. In his most gut-wrenching performance, Heughan manages to nail every single emotion. And, he does it with subtle nuances.
This is a difficult episode to watch, and it covers extremely sensitive subject matter. Viewers will feel Jamie's extreme pain, but Heughan's performance is noteworthy. While Menzies' turn as Black Jack Randall makes the character more detestable than ever.
Season 6 of Outlander is expected to premiere on Starz in February 2022.
Source: Read Full Article