Outlander's Caitriona Balfe's Claire Fraser knows all about tragedy and heartbreak Balfe has delivered some of the most gut-wrenching moments of the Starz time-traveling drama — a series that's been a roller coaster ride of emotions ever since its debut in 2014.
The turbulent love story of Jamie (Sam Heughan) and Claire has broken fans' hearts and left them in tears numerous times.
Here are our picks for Balfe's 12 most heartbreaking moments as Claire Fraser on Outlander.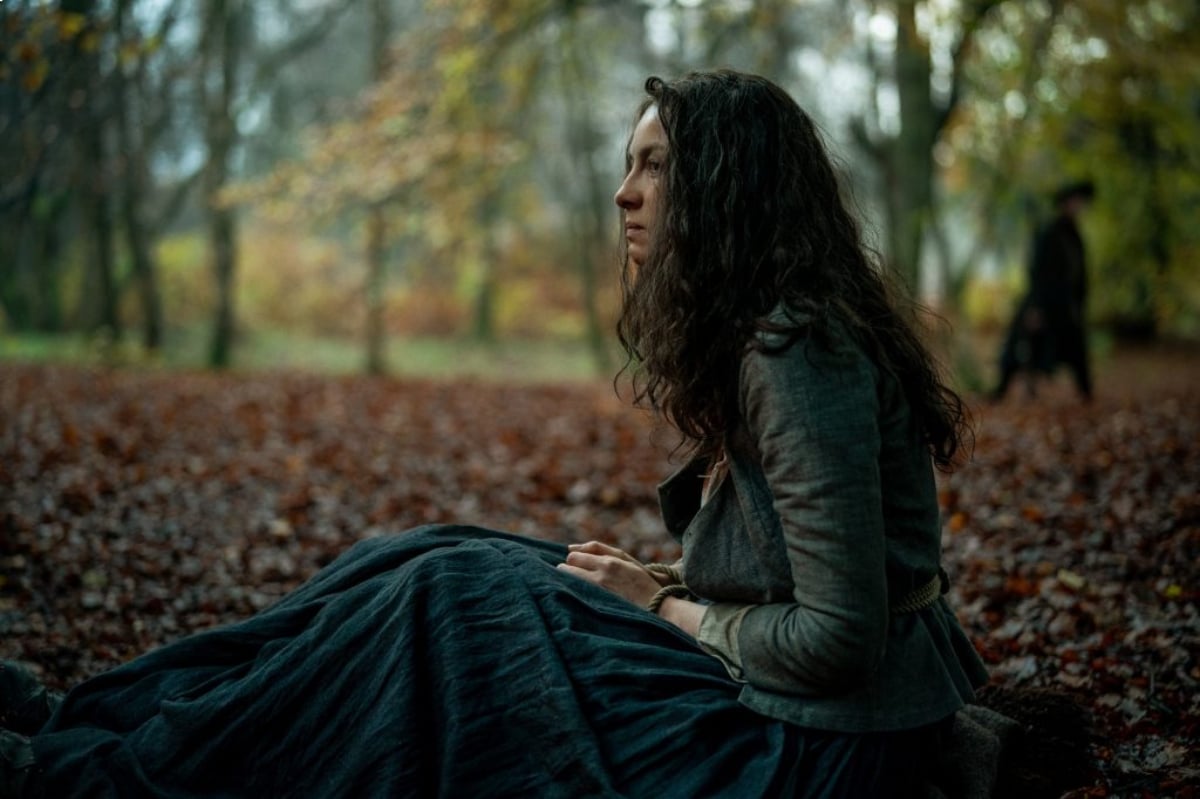 12. 'Outlander' star Caitriona Balfe brings the emotion when Claire finds out about Frank's death
Claire may have settled for Frank (Tobias Menzies) after leaving Jamie behind. But he did everything he could to be a good dad to Brianna (Sophie Skelton). What's more, Claire spent the first two seasons of Outlander trying to make sure the evil Black Jack Randall lived so Frank could be born.
Claire and Frank were not happy in their marriage. But when he shockingly dies in a car accident, it was a heartbreaking moment for both Claire and Brianna. Ultimately, Frank did his best with the situation he found himself in.
11. Claire was forced to sell herself to the king of France in season 2
After his duel with Black Jack — an event that caused plenty of suffering and heartbreak on its own — Jamie ended up in the Bastille. To save her husband and secure his release, Claire had to offer up her body to King Louis XV.
Then, she was ordered to act as judge, jury, and executioner to Comte St. Germain and her friend, Master Raymond.
10. Claire finds out what happened to Fergus
Claire is furious at Jamie when he goes back on his promise and she catches him dueling Black Jack. But one of the most heartbreaking moments for Claire is when poor Fergus explains why Jamie decided to betray her.
Fergus tells Claire that Black Jack assaulted him, and Jamie saved him. It's not an easy scene to watch because it crushes your heart for a number of different reasons.
9. Fans thought this might be the end of 'Outlander' for Caitriona Balfe
After suffering a miscarriage in season 2 (more on that in a moment), Claire diagnosed herself as suffering from puerperal fever. This brought her close to death, and for a while, it didn't look like she would survive.
If it wasn't for Master Raymond's miracle, she probably wouldn't have made it.
8. Settling for Frank and a loveless marriage
Claire reluctantly returned to the 20th century to keep her daughter safe, and that led to one of the biggest tragedies of her life — her unhappy marriage to Frank. Claire loved Frank before her life-changing experience of traveling through time and meeting the dashing Highlander. But afterward, she just didn't feel the same way for Frank ever again.
Claire and Frank were in a loveless marriage, but they kept up the charade for the sake of their daughter. The truth was, though, that Brianna was Jamie's daughter, not Frank's. Claire had to raise Brianna away from Jamie, and that in itself is heartbreaking enough.
7. 20 years lost may be the most heartbreaking aspect of 'Outlander'
This heartbreaking moment lasted 20 years because that's how long Jamie and Claire had to spend apart from one another. Claire thought Jamie had died at the Battle of Culloden, and she promised Frank she wouldn't try to find him.
The only positive thing that came out of this lengthy heartbreak was Jamie and Claire's reunion. But all of those lost moments during those 20 years is the biggest heartbreak of all.
6. Claire finds Jamie at Wentworth Prison in season 1 of 'Outlander'
Black Jack Randall is one of the most despicable characters in all of Outlander, and he caused a lot of heartbreak. The things he does to Jamie and Claire in season 1 are absolutely horrific. But he took things to a whole new level in the final two episodes.
When Randall captures and holds Jamie at Wentworth Prison, Claire breaks in to save him. Her heartbreaking moment comes when she finds her husband and discovers he's been the victim of horrific torture. Then, she ends up trapped herself.
5. Stephen Bonnet's attack and the loss of Claire's wedding ring
In the premiere of season 4, Outlander fans were shocked when the seemingly kind Stephen Bonnet (Ed Speelers) ended up being an evil pirate and turned against Jamie and Claire. He stole their boat, their gems, and other goods, and he killed most of the crew members.
But the real tragedy for Claire was when he stole her wedding ring. She held on to the ring Frank had given her, but Jamie's ring was lost.
4. Claire chooses to leave Briana and look for Jamie
Claire honored her promise and never looked for Jamie while she raised Brianna with Frank. But after Frank's death, she told Brianna the truth about who her father was. Eventually, it's Brianna who convinces her mom to travel back through the stones and attempt to find the 18th century Scottish Highlander.
At the time, the mother and daughter both believe this will be their last time seeing each other. Claire tells her daughter it will be heartbreaking to miss her wedding and the birth of her first grandchild. But the Harvard-educated engineer promises her mother she will be okay on her own.
"I've been trying to figure out if I'm more Fraser or Randall," Brianna said. "And I realized, I'm more you than I am either of my fathers. And if I can turn out to be half the woman you are, then I'll be fine."
3. 'Outlander's' Caitriona Balfe deserves an award for her performance in the season 5 finale
The entire season 5 finale is a gut-wrenching episode. When Claire is kidnapped and repeatedly assaulted by Lionel Brown and his men for giving out medical advice, she manages to survive the horrific ordeal by mentally escaping to a dream.
To distance herself from the trauma that is happening, Claire dreams that she is safe in Jamie's arms, in one of the most beautiful and heartbreaking moments of the entire series. Claire imagines herself at Thanksgiving in the 1960s, surrounded by her family and friends. This includes Jamie, Fergus, Marsali, Ian, Aunt Jocasta, and the deceased Murtaugh wearing groovy 1960s fashion.
When Jamie finally arrives and sees what the group has done to Claire, it's almost too much for viewers to handle. He proceeds to massacre all of them before taking his wife back to Fraser's Ridge.
2. Jamie sends Claire back to the future in season 2
The season 2 finale features arguably the most heartbreaking scene in all of Outlander. We put this moment as number two on our list, but it could have easily been number one. As the Battle of Culloden approaches, Jamie insists that Claire return to the 20th century for the safety of their unborn child.
The love between Jamie and Claire is undeniable. But their efforts to stop the Battle of Culloden have failed, and Jamie expects to die on the battlefield. He can't leave Claire and his baby alone in the 18th century, so he chooses the wellbeing of his wife and child over his own.
Their tearful goodbyes — filled with the expectation that they would never see each other again — is one of the most difficult moments to watch in the entire series.
1. 'Outlander's' Caitriona Balfe shines in the heart-wrenching season 2 episode 'Faith'
The entire season 2 episode titled "Faith" is the most heart-wrenching in all of Outlander. It was finally time for the birth of Jamie and Claire's first child. But it was not the joyous event that fans had hoped for.
Claire goes into premature labor after watching Jamie duel Black Jack Randall — something he promised he wouldn't do. The duel leads to Jamie's arrest, and the couple's daughter — who they've named Faith — is stillborn.
Claire's reaction to finding out her daughter was stillborn will absolutely destroy anyone who is watching. She didn't believe that her daughter was dead, so she begged for her baby and her husband.
Mother Hildegarde had the baby baptized and brought a priest over to read Claire her rites because she didn't think Claire would survive the night either. It wasn't until her friend Louise de La Tour gently told her that it was time to say goodbye that she let her daughter go.
I'm not crying, you're crying
The amount of trauma that Claire has experienced can't be understated. She's seen the bloody horrors of war, lost a baby and almost died herself, and endured an unhappy marriage for 20 years with the belief that the love of her life was dead. Still, Outlander's Claire Fraser has endured. She's definitely a modern woman ahead of her time.
Seasons 1 through 5 of Outlander are available on Amazon Prime Video. Season 6 is expected to premiere in Feb. 2022 on Starz.
Source: Read Full Article