After nearly six months of shutdown, Grey's Anatomy is reportedly going back into production on season 17 just after Labor Day.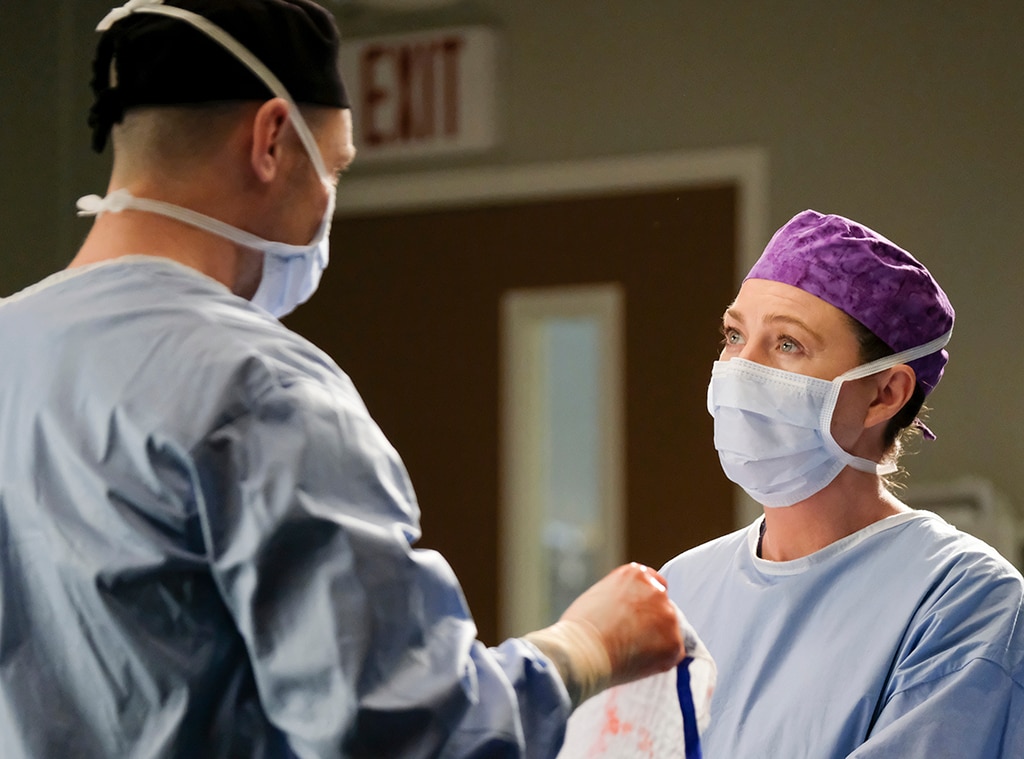 The wait for a return to Grey Sloan Memorial continues, but at least we've now got a light at the end of the tunnel. 
Grey's Anatomy is reportedly planning to return to production in Los Angeles on Sept. 8. According to Deadline, a table read is set for Thursday, Sept. 3, but there's still no word on when the show might return to our screens. 
The medical drama, which is heading into its 17th season, was one of the first shows to shut production down in early March with only 21 out of 25 episodes filmed for season 16. The episode that became the finale still managed to end with a few cliffhangers, including Owen (Kevin McKidd) discovering that Teddy (Kim Raver) had been cheating on him with Tom (Greg Germann) while DeLuca (Giacomo Gianniotti) finally asked Meredith (Ellen Pompeo) for some help. 
Showrunner Krista Vernoff told E! News that Grey's was mostly scrapping its planned season 16 ending and has since confirmed that the pandemic will be addressed on screen. 
Vernoff told THR that her writers, especially the doctors in the room, convinced her that they had to tackle the pandemic when she initially believed they didn't need to. 
"[The writers] really convinced me that it would be irresponsible to not. To be kind of the biggest medical show and ignore the biggest medical story of the century felt irresponsible to them to the medical community," she said. "These doctors are traumatized. They are not trained or wired to hold the hands of dying people all day who are alone without their families."
Vernoff also said she believed Grey's had a leg up on many other shows because her characters already wear a lot of masks. 
"You can't be in a hospital without a mask right now," she pointed out. "So that's actually gonna, I think, allow us to get back to work safely before some other shows can." 
Grey's has also already mastered the art of getting sexy without actual kissing. 
"Obviously, you can't have people making out, but there's been a lot of sex on Grey's Anatomy that doesn't involve kissing," she told THR. "There's a lot of sexy lifting of clothes, and pulling down of clothes, and taking off of things, and standing behind a person in a sexy way. There's a lot of ways to skin a cat, so to speak." 
Hopefully, all of this means that we'll be seeing Grey's back on our screens sooner rather than later, though currently, ABC's falls schedule only includes unscripted shows. 
Trending Stories
See Kim Kardashian Give Birth to Kylie Jenner in Kanye West Video
The Meaning Behind Kim Kardashian, Kylie Jenner's "Feel Me" Cameos
Captain Sandy Has "No Regrets" About Hannah's Firing
Keep up with all the shows that have returned or are in the midst of returning to production below! 
Grey's Anatomy will return to production in Los Angeles after Labor Day. 
The Bachelorette, with Clare Crawley as its star, began filming in mid-July after a quarantine period followed by many tests for all cast and crew. Since then, Clare has fallen in love, quit the show, and been replaced by Tayshia Adams, so the pandemic has definitely not put a damper on the drama. 
Big Brother moved its COVID-19-free All Stars into the house on Aug. 5 for the ultimate quarantine, and the show is currently airing three times a week. 
CBS' other show about isolating a bunch of people from the outside world is also returning, with all production taking place at a resort in Las Vegas. All contestants and crew have had to quarantine and pass multiple COVID-19 tests, and the show will air every weeknight beginning Aug. 24. 
Wynonna Earp star Melanie Scrofano talked to E! News in mid-July on day three of shooting the back half of season four in Calgary, Canada. She described it as "a f–king mess" as everyone struggled to remember all of the rules, but the cast and crew were already getting used to having to constantly wash their hands and check in before scenes that required a lot of closeness. 
Supernatural was just two episodes from the very end of the series when production had to shut down in March, so the network decided to hold off on the final seven episodes until the fall. Filming has resumed in Vancouver, and Jensen Ackles and Jared Padalecki are back on set to film the series finale. The final part of the final season premieres Oct. 8 on The CW. 
Showrunner Roberto Aguirre-Sacasa tweeted on Aug. 17 that production offices had opened and season five of Riverdale is officially in pre-production. In an interview with Jimmy Fallon on Aug. 18, Lili Reinhart revealed that she was just a couple of days away from heading to Vancouver for a two-week quarantine before filming begins again. Two and a half episodes remain from the end of season four, featuring senior prom and graduation, and then the show will jump ahead five years for the rest of season five. New episodes will debut in Jan. 2021.
The Good Doctor was supposed to have resumed filming in Vancouver in early August, but actors were sent home in the middle of their quarantine when SAG-AFTRA and the Canadian government couldn't come to an agreement on safety protocols. Deadline reports that that issue has now been resolved, and production is now set to resume at the end of the month. 
The cast has yet to be announced, but the pros are all on board for season 29, even if it means they that even the married pros have to isolate from each other. New host Tyra Banks has also already been promising big changes as the show heads in a new creative direction. The new season premieres Sept. 14 on ABC. 
The CBS drama went back into production on Aug. 4. Originally, S.W.A.T. wasn't going to be on CBS's schedule until midseason, but it swapped places with Survivor when the reality hit wasn't able to film a new season this fall. 
New Batwoman star Javicia Leslie has been posting on Instagram from Vancouver since at least August 9, and The Flash star Grant Gustin took a selfie in a Star Labs shirt on Aug. 19. "Sooooon. Had to work out in this this morning," he wrote. "Gearing up for full Barry Allen in the near future." 
New series Superman & Lois hasn't even been able to film a pilot yet, but that's also slated to return in January. Legends of Tomorrow and Supergirl will both premiere later in 2021. 
Stars will be required to quarantine for two weeks, and filming on most of The CW's returning shows is supposed to start in Sept. 
The fourth season of Fargo, starring Chris Rock, is currently in pre-production in Chicago for the remaining episodes that weren't finished before the pandemic hit. The season is set to premiere Sept. 27 on FX. 
On Aug. 17, Deadline reported that The Conners had resumed production, with plans to tape with a minimal crew and no studio audience. 
The Bold and the Beautiful returned to production in June, with General Hospital and The Young & the Restless returning in July. 
Grey's Anatomy airs on ABC. 
Source: Read Full Article