ARTICLE HIGHLIGHTS
Game of Thrones stars Kit Harington and Richard Madden reunited for Marvel's Eternals
Madden recently sat down with his Eternals co-star Gemma Chan to answer fan questions.
He says that reuniting with his GoT co-star in the MCU was just "terrible."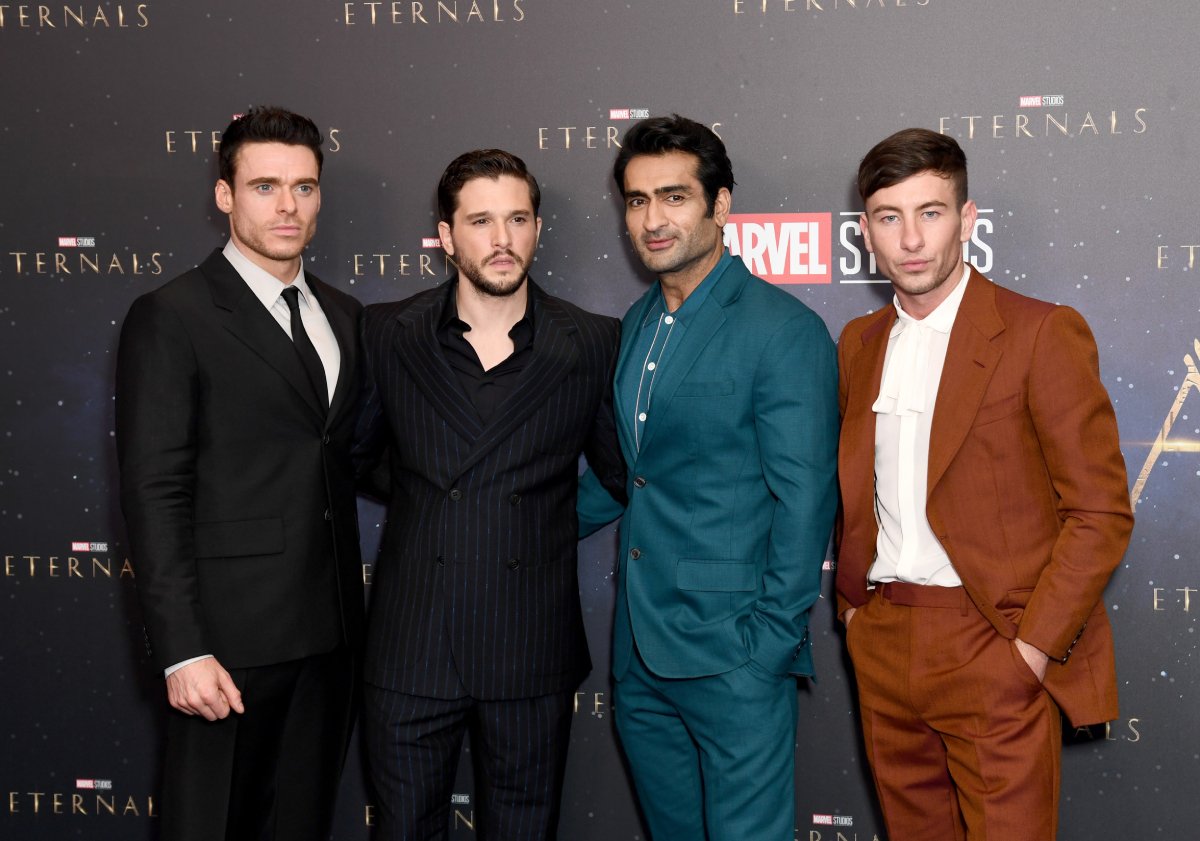 Eternals is now playing in theaters. And stars Richard Madden (Ikarus) and Gemma Chan (Sersi) recently sat down to answer fan questions about the latest installment in the Marvel Cinematic Universe. The duo shared their thoughts on everything from their Eternals costumes to their co-stars.
According to Madden, reuniting with his Game of Thrones co-star Kit Harington (Dane Whitman) was "terrible."
The 'Eternals' stars had input on their costumes
During a recent IMDb "Ask Each Other Anything" segment, Madden and Chan asked each other questions they received from fans. The Game of Thrones alum revealed that the stars of Eternals all chose their costumes and designed them together. And Chan said she loved being part of that process.
"I really loved the designs of Sammy Sheldon Differ, the amazing costume designer," Chan explained. "I'd go in and I'd be like oh this bit of the costume is kind of cutting me off there in the ribs and they would just tweak and tweak. I loved being a part of that character process, but to be honest I really loved the direction she was going in already."
Richard Madden was worried about his costume's practical elements
Madden said that he opted for a deeper blue costume like his character wears in the comics. But he was most concerned with the practical elements of his costume when he's flying.
"What do we do with my kind of situation that flaps down. Do we flap it back up, do we velcro this, do I tie string around me? I don't know. You end up with all these crazy questions, like if I'm upside down what will I look like," Madden explained.
While explaining how he landed on his "laser eye look," Madden said it was all about practicing in the mirror and figuring out "what would look the least stupid." He admitted that "there's not a lot of options." So, he settled on something he thought would work well, and "prayed and trusted" that the "very talented" visual effects team would make him look cool.
'Eternals' star Richard Madden said it was 'terrible' reuniting with Kit Harington
When Chan asked Madden about his thoughts on reuniting with his Game of Thrones co-star for Eternals, the actor joked, "It was terrible."
"I hated it the first time and I hated it more the second time," Madden quipped. "No, it was great seeing Kit and being on set with him again. Actually, I remember that night me, you and Kit being there and we're all friends off camera. We've actually gone drinking in Camden. I came in and stood in the cold with you guys and it felt like another Friday night in Camden."
Working on the Marvel set was like hanging out with friends
During a conversation with The Hollywood Reporter, Madden reiterated that it was good to see Harington again and he enjoyed working with his longtime friend.
"I've been friends with Kit for years. So it was one of those days on set with Kit and Gemma where you go, "Oh god, I'm not just standing with my friends. I'm actually here to work." But that's kind of lovely in a way," Madden said.
Gemma Chan wanted to spend more time with her 'Eternals' co-stars
After working with both Harington and Madden — two of the biggest stars of Game of Thrones — Chan doesn't feel like she's guest-starred on the HBO drama. But she's glad she got the chance to work with her friends.
"I feel very lucky to have gotten to work with Kit and Richard. And actually, I know Kit as well. So honestly, I would have loved to have had more time with both of them, really," Chan said.
Eternals is now playing theaters nationwide.
Source: Read Full Article