When Amy Adams starred in Enchanted, the wedding dress she wore early on didn't stick around. But the star of the Disney flick had to don the 45-pound gown for long enough that it became difficult. Let's take a look at her experience wearing the dress and recap her past experiences with fairytale roles.
Filming in a 45 pound dress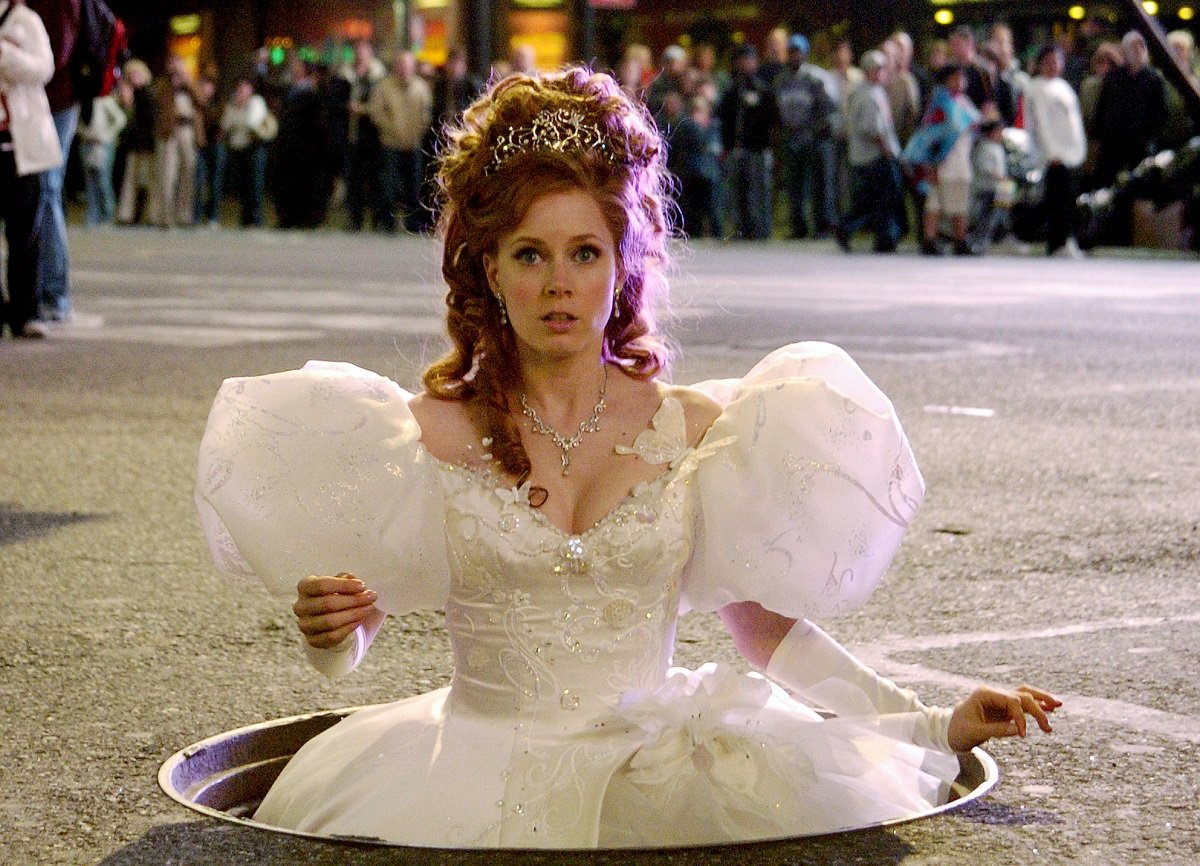 Adams shared her experience wearing the behemoth dress (above) for the movie. According to an interview she did with Collider, she said, "Any scene where I had the white dress was grueling. It weighed about 45 pounds and the entire weight was on my hips so occasionally it felt like I was in traction." 
The dress was heavy due to the base being made of steel hoops. It also took 15 minutes just to put the dress on due to the bulk of it. Adding to the immense weight of the dress, it was also very cumbersome and not easy to move around in.
Adams reports that the dress had a mind of its own and she had to be very intentional about the way she moved in it. Sitting was next to impossible due to the sheer bulk of the gown. The crew had to create for her what is known as crash mats that were laid out into the street for her to sit down. 
Adams loved filming the movie, despite the large dress
Adams didn't spend all of Enchanted in the massive dress, fortunately. And her favorite ones definitely didn't feature it. There was one scene in particular that she was very fond of. It features Giselle singing around the famed Bethesda fountain found in New York's Central Park.
She called that scene "exhilarating." "I think when we come around the Bethesda fountain, I remember arriving on that day and just really remembering my first time visiting New York and seeing the Bethesda fountain and to realize that I'd now be doing a musical around it, which for me is fantastic. I just really had a really wonderful time."
Not only did Adams enjoy making the movie, but fans and critics alike loved watching it. Roger Ebert called the actor "fresh and winning" in Enchanted, adding, "her role absolutely depends on effortless lovability." Rotten Tomatoes gave the film a 93% rating. 
A recap of Adams's career
Adams' show business career started early for her. She trained to be a ballerina. But at age 18, she found musical theater and decided that it was a better fit for her. Adams spent time in dinner theater before she made her way to Hollywood.
The actor's first film was a black-and-white short film called The Chromium Hook. Soon after, she attended auditions for the Hollywood film Drop Dead Gorgeous, a film about beauty pageants starring Kirsten Dunst, Ellen Barkin, and Kirstie Alley. Adams was cast in the supporting part of a promiscuous cheerleader. Adams went on to star in films such as Junebug and Julie and Julia, to name just a few.
Enchanted was a role for Adams that harkened back to her early days of dinner theatre. The actor seems to have relished the chance to perform in a musical again. There will be a sequel to the film titled Disenchanted that will be released sometime in 2022 where Adams will reprise her role as Giselle.
Source: Read Full Article