Jennifer Lopez and Ben Affleck have made no secret of their rekindled romance since they were first spotted together back in April — and they've hardly slowed down since then. The couple have been spotted all over the place, taking romantic trips everywhere from Montana to Italy.
The whirlwind relationship hit the headlines just weeks after Lopez announced her split from her now former fiancé, Alex Rodriguez. Their breakup appeared to be particularly contentious as the two had very much blended their families, with the gang regularly spending quality time together amid reports they stayed together as long as they did for the sake of their kids. 
Lopez is mom to twins Max and Emme, who she shares with her former husband, Marc Anthony, while Rodriguez shares Ella and Natasha with ex-wife Cynthia Scurtis.
Lopez and Rodriguez regularly shared snaps of their blended brood and opened up in interviews about how close everyone was and how well they got along. The "On The Floor" hitmaker — who's since scrubbed her Instagram of a number of photos of A-Rod and unfollowed him — told People in 2018 that the kids had "become best friends" and "embraced each other right away." She added, "We couldn't have asked for anything better than the four of them getting along as they do."
So, that begs one big question. Just what do J-Lo's kids really think of Ben Affleck's offspring after growing so close to Ella and Natasha? Read on to find out.
Jennifer Lopez's children reportedly get along 'great' with Ben Affleck's kids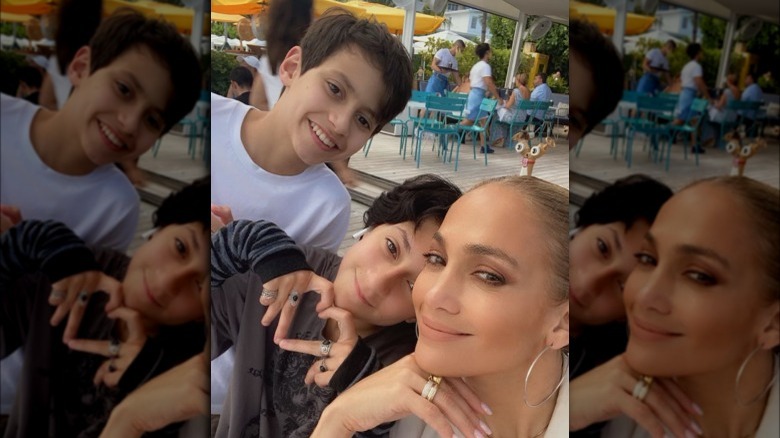 According to reports, it seems like this is another big, blended family win for Jennifer Lopez. A source opened up about how Lopez and Ben Affleck have involved their children in their relationship, claiming that the five kids all get along great. Affleck has three children, two daughters, Violet and Seraphina, and a son, Samuel, who he shares with his ex-wife, Jennifer Garner.
The insider claimed to Entertainment Tonight in August that Max, Emme, Violet, Seraphina, and Samuel have been "spending more and more time together" as things continue to get serious for their parents, stating that the gang apparently have a "great" relationship already. They added that the brood have had "fun" doing various "activities as a blended family" and claimed that all the children "are enjoying getting to know each other better."
The report doubled down on what a source told Entertainment Tonight a month prior, as they also revealed that Lopez and Affleck's families had been "getting along great." The insider said at the time that although things seemed to be a bit of a whirlwind for the couple — who famously called off their engagement back in 2004 — they had supposedly been "making an effort to take things slow when it comes to their kids."
Jennifer Lopez and Ben Affleck's children have spent a lot of time together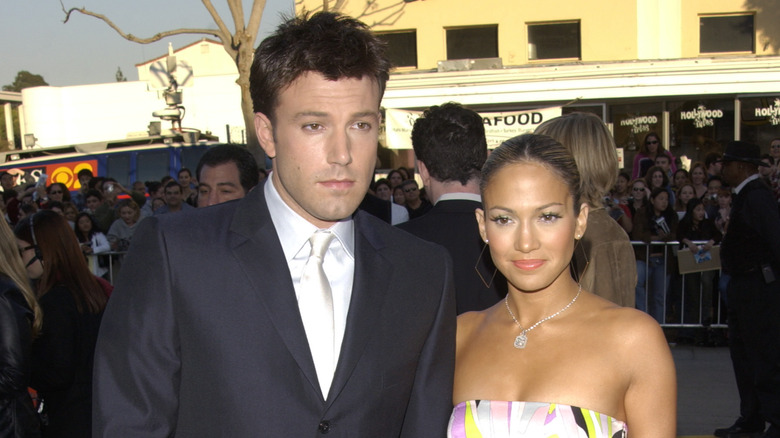 It's probably not too surprising to hear Jennifer Lopez and Ben Affleck's children seem to be getting along like a house on fire, as the blended family has been spotted out and about together multiple times in the months that followed Bennifer's reunion. In early July, Page Six shared candid photos of the twosome as they took J-Lo's twins, Max and Emme, and Affleck's son, Samuel, to Hollywood's Universal Studios.
More recently, it was very much a family night when Lopez and Affleck were photographed attending "Hamilton" at the theatre in Los Angeles on August 20. Per Entertainment Tonight, the two were snapped holding hands and were accompanied not only by all of their kids, but Affleck's mom, Christopher Boldt, too!
Clearly this is a clan that just can't seem to get enough of each other, as they gathered together once again the following day. Per People, on August 21, Lopez, Affleck, their five kids, and Affleck's mom all headed to Los Angeles' The Magic Castle. An insider told the outlet that everyone spending time together felt "natural" for where Lopez and Affleck are in their relationship and added that the two "are not trying to rush anything, but want all the kids to get to know each other."
Sounds like it's all very friendly here!
Source: Read Full Article