MeToo was at its height when Asha Boswarva, then just 16, first read the script for Lambs of God, the Tasmanian Gothic show about three nuns battling the modern church in which she appears.
"It was the time of things coming out about Harvey Weinstein and the MeToo movement. It was all happening at the same time and then to read this confronting scene, knowing what had happened to women on-set and what was going on," was an imposing sequence of events, Boswarva says.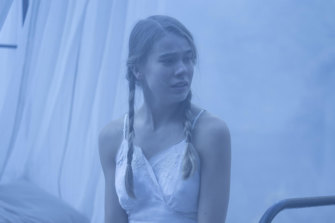 Asha Boswarva as the young Sister Margarita in Lambs of God.Credit:Mark Rogers
But Boswarva says this production, in which the Sydney teen plays the young Sister Margarita, played in old age by Ann Dowd (best known for her role as the terrifying Aunt Lydia in The Handmaid's Tale), was a long way from the horror of the pre-MeToo casting couch.
Instead the show grapples with trauma head on. Sister Margarita carries with her the burden of past trauma, depicted in flashbacks in which Boswarva plays the character. Shot with eerie lighting, they evoke a distressing fairytale suffused with disturbing biblical allusions.
Those scenes would be hard for any actor to shoot, let alone one still in her teens, but Boswarva emphasises the support she was given on-set to shoot her scenes.
"On my first day on set, Ann Dowd came up to me and she was so divine. She was like, 'Oh God, this is my mini-me' and she introduced me to everyone on set from the director to the leaf-blower. She knew everyone's name," Boswarva says.
Lambs of God, adapted from the 1997 novel of the same name by Marele Day, was written for the screen by Sarah Lambert who told Boswarva she wanted Boswarva's scenes to give a "real and raw depiction" of what happened to Sister Margarita, Boswarva says.
The scenes were shot on a closed set with only the series and scene directors, a makeup artist, camera operator and the actors present.
"We talked through it before the scene, what to expect, how they were going to shoot it and they definitely tried to make sure both actors felt comfortable going into that confronting moment," Boswarva says. "That was intense, but definitely worth it for that story to come across."
But Boswarva faced more than the demands of acting. Now 17, she is studying for her HSC in Sydney and was balancing the demands of school and acting throughout the production.
"It was a bit of a juggle but well worth the juggle," Boswarva says. The production was her first major screen role, and one that let her work with actors she idolises, including Dowd.
"It was a big and tear-filled happy moment for everyone," Boswarva says of Dowd's last day on set. "I got to see that and farewell Ann, and farewell everyone. It was amazing… it was unforgettable."
"It made me realise what I have to look forward to at the end of school."
The final two episodes of Lambs of God air on Sunday night on Foxtel.
Source: Read Full Article