Criminal Minds is finally coming to a close after a remarkable run. The show has arguably changed pop culture and made people a little more aware of their surroundings for potential threats. The final season finally has a premiere date and it's closer than you might think. There are spoilers ahead.
When does season 15 of 'Criminal Minds' premiere?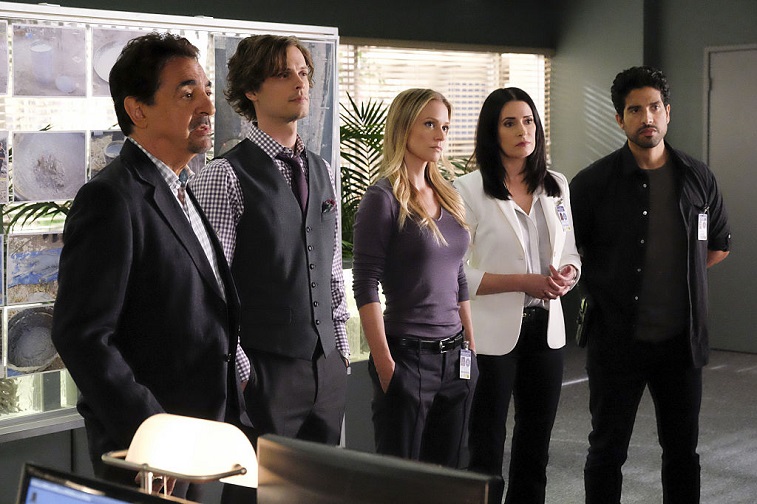 The final season of the CBS series will premiere on Wednesday, January 8, 2020, at 9 p.m. E.S.T. The official social media accounts made the announcement with a post of the premiere date. "Get ready. January 8. #CriminalMinds," the tweet reads. The premiere will be two hours long and fans can't wait.
A trailer for a few shows was also released
In a trailer for a number of upcoming shows, CriminalMinds' final season is also highlighted. In it, Dr. Spencer Reid (MatthewGray Gubler) lays eyes on Max, his new love interest who will be played by RachaelLeigh Cook. She will be in at least two of the final 10 episodes.
Penelope Garcia (Kirsten Vangsness) is also seen looking worried. "It's happening again," she says. It looks like the final season will keep fans on the edge of their seats.
What's going to happen with JJ and Reid?
Dr. Spencer Reid and Jennifer "JJ" Jareau (A.J. Cook) haveunfinished business after that jaw-dropping confession in the season 14 finale.They were both being held by an unsub and JJ had to reveal a secret she hadnever said out loud before.
"Spence, um, I've always loved you. And I was just tooscared to say it before. And now things are just really too complicated to saynow," JJ said. "I'msorry, but you should know."
So what does this mean for the final season? They will definitelyaddress things to some degree, but considering how fans reacted to the confessionand Reid's new love interest in season 15, things will probably fizzle betweenReid and JJ before they start.
Who will return for the final season?
Which BAU agents will be back to reprise their roles on thehit series? Manyfan favorites will be back including Jennifer "JJ" Jareau (A.J. Cook),David Rossi (Joe Mantegna), Dr. Spencer Reid (Matthew Gray Gubler), PenelopeGarcia (Kirsten Vangsness), and Emily Prentiss (Paget Brewster). Jane Lynch willbe back as Diana Reid. Dr. Tara Lewis (Aisha Tyler), Luke Alvez (AdamRodriguez), and Matt Simmons (Daniel Henney) will also be back for season 15.
What are the fans saying?
Reddit is buzzing with activity since the announcement and fans are understandably excited for January. It's the end of an era and although many fans can't wait to see how it all ends, many aren't exactly looking forward to the end.
"Wow when they said a shortened final season, they reallydid mean short with just 8 weeks of CM programming. But at least it's anuninterrupted run until the finale. January can't come soon enough," oneReddit user wrote.
"Right? Really puts into perspective just how quickly this finalseason will fly by :/. Good to have an official date, though! Onward toJanuary, then," a user commented in response.
"I know it's unlikely, but do you think there's a chancethey could resolve some unclosed cases from earlier seasons? Such as that crazymountain man from season 8 who escaped," another Reddit user inquired.
"omgggg it's happening!!! so exciting but definitely a little bittersweet :/," a user said.
Criminal Minds may be coming to an end, but it had anexcellent run. Luckily, there will be 15 seasons for fans to rewatch whenthings are all over. There isn't much longer to wait until the premiere of thefinal season.
Source: Read Full Article