In the popular series Criminal Minds, fans have been known to talk about different aspects of the show. Recently, fans weighed in on which character on the team they disliked "the most" in the series. We have all the details to know about it.
'Criminal Minds' fans reveal which character from the team they disliked 'the most'
On August 27, 2021, a fan on Reddit made a post titled, "Which character that was in the team do you dislike the most?" They also added, "Mine was Callahan. I really liked the episode where she was saving her niece but other than that, I just felt like she didn't fit compared to others."
Fans didn't hold back in the comments, and they included their thoughts about which character on the team they disliked "the most." Answers were all over the place, which is to be expected, but SSA Elle Greenaway (Lola Glaudini) was named the most. She was in the first two seasons, and she was even shot, and she also killed an unsub as well.
"Idk Elle she just never fit right with me," a fan said.
One fan calls Greenaway their "least favorite." "Elle was my least favorite, although mainly because of her attitude after she was shot, followed by Seaver, then Derek," a fan said.
1 fan 'didn't remember Seaver at all' during a rewatch of an episode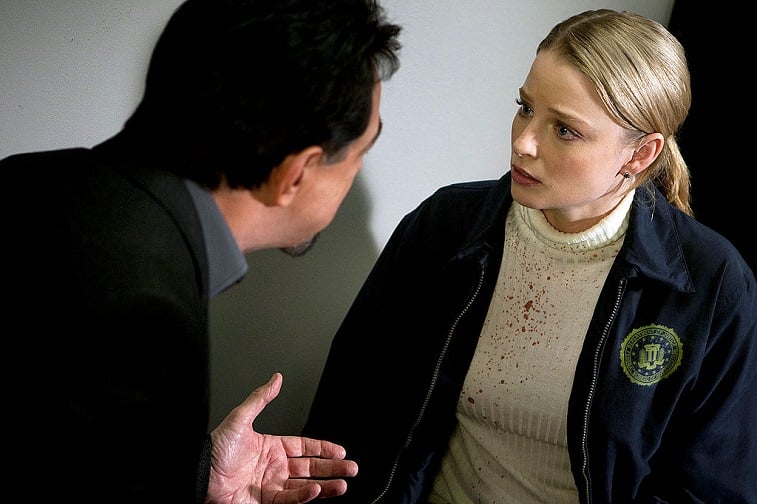 The next most named character is Ashley Seaver (Rachel Nichols). Her father was a serial killer, which was an important story when it comes to her character. 
"Like most people said: Seaver," a fan said. "There's one episode that I'd remembered so vividly since I last watched CM over a decade ago. When I'd rewatched it, I didn't remember Seaver at all."
A fan said 'Morgan, I'm sorry'
SSA Derek Morgan (Shemar Moore) was also named. He was a beloved character for over a decade on the series before he left the BAU. He worked well with the rest of the team, especially with his good friend, Technical Analyst Penelope Garcia (Kirsten Vangsness).
"Morgan, I'm sorry," a fan wrote.
1 fan chose JJ
Some fans named Jennifer Jareau or JJ (A.J. Cook), who was the Media Liaison but eventually became a profiler. She's been part of the team since the very beginning.
"JJ!" a fan wrote. "I feel like she brings nothing to the table, and I'd have been happy if she'd stayed at the state department."
A fan 'could never warm up to' Dr. Alex Blake
Some fans also mentioned Dr. Alex Blake (Jeanne Tripplehorn), who was a member of the team from seasons 8 and 9. She's extremely smart, and she's definitely a memorable character.
"Alex Blake!" a fan revealed. "I liked everyone else for the most part, but she's the one that I could never warm up to."
Other characters were also named, including SSA Stephen Walker (Damon Gupton), Media Liaison Jordan Todd (Meta Golding), Garcia, Dr. Tara Lewis (Aisha Tyler), SSA David Rossi (Joe Mantegna), SSA Kate Callahan (Jennifer Love Hewitt), and Unit Chief Aaron "Hotch" Hotchner (Thomas Gibson).
Fans have varying opinions when it comes to which character the disliked "the most" in Criminal Minds.
Source: Read Full Article