Netflix dumps an avalanche of original content on the world pretty much every week. (And we are v v grateful!) That original content takes several forms; There are the high-quality, prestige series, like Stranger Things and The Crown. There are thought-provoking, important documentaries like Athlete A and 13th. There are also addictive and/or borderline bizarre docuseries, like Making a Murderer and Tiger King. But one place where Netflix has really started to shine is original romantic comedies.
Think about it: Rom-coms had their heyday in theaters back in the '90s and early '00s, but with the exception of a few big name hits like Crazy Rich Asians, the romantic comedy has become an endangered species in theaters. On Netflix though, rom-coms aren't just surviving…they're thriving. And within the general rom-com category, there is a smaller subcategory of romantic comedy that Netflix is really nailing: the teen rom-com.
And when it comes to Netflix teen rom-coms specifically, it doesn't get much better than The Kissing Booth. The popular movie has already spawned two sequels, The Kissing Booth 2 andThe Kissing Booth 3, obviously.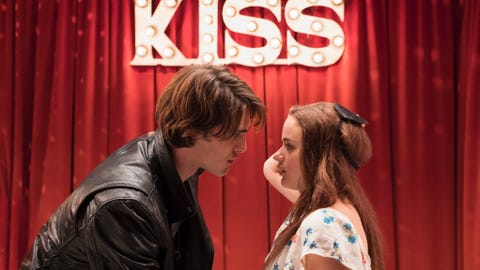 If you've already watched The Kissing Booth and The Kissing Booth 2 more times than is technically healthy for a single human to do while you wait for The Kissing Booth 3 to hit Netflix this week, here are 15 other movies like The Kissing Booth series to watch right now.
To All the Boys I've Loved Before
If you love the earnestness of The Kissing Booth, then it's a no-brainer that you'll love Netflix's other flagship teen rom-com To All the Boys I've Loved Before.
10 Things I Hate About You
Not every movie is good enough to birth a truly iconic scene. 10 Things I Hate About You (which is a modern retelling of The Taming of the Shrew) has two: Heath Ledger serenading Julia Stiles on the bleachers and the couple's epic paintball date.
The DUFF
Mae Whitman is in top form as the titular DUFF (aka designated ugly, fat friend—a truly terrible title only the meanest of high school minds could conceive) in this movie that hits all the big teen rom-com tropes: the "ugly duckling" makeover, the popular jock falling for the "nerdy" girl, and plenty of secret schemes. The whole nine, really.
She's All That
When people poke fun at '90s rom-coms, they're basically just poking fun at She's All That, which is the ultimate "ugly duckling" makeover teen movie. Just like The Kissing Booth, this movie's getting more Netflix love too in the form of He's All That starring Addison Rae.
Sixteen Candles

Speaking of paving the way, let's throw it all the way back to the original "popular jock falls for nerdy girl" teen movie: Sixteen Candles. Some of the jokes don't age well (like, at all), but the encapsulation of teen angst is timeless.
Mean Girls
Mean Girls definitely takes the title as the ultimate modern classic teen comedy. No, the romance isn't as front and center like in other movies on this list, but Aaron Samuels's hair does look sexy pushed back.
The Half of It
Classic rom-coms come with old school issues—like a seriously problematic lack of diversity and representation. Netflix's The Half of It takes a classic rom-com plot (guy asks "nerdy" girl to help him woo the girl of his dreams) and gives it a much-needed modern update (said "nerdy" girl is also crushing on the object of the boy's affection).
High School Musical
Three words: Zac. Efron. Singing.
Actually, two more words: And. Dancing.
17 Again
If you're vibing to Mr. Efron circa the early aughts, add 17 Again to your mental to-watch list. In it, Zac plays a grown-ass man (played in his grown-ass form by Friends alum Matthew Perry) who is magically transformed into his 17-year-old self again for a second chance at the glory and the life he thinks he missed out on the first time around.
Love, Simon

If you're looking for the kind of teen rom-com that will trigger full-on butterflies in your stomach and bring the emotional range to stick with you after you're done watching, Love, Simon is it.
A Cinderella Story
As the title implies, this is a modern take on Cinderella, with prime, post-Lizzie McGuire Hilary Duff in the role of the underdog lead and ultra-prime, One Tree Hill-era Chad Michael Murray as the Prince Charming love interest.
Angus, Thongs and Perfect Snogging
If you prefer your teen rom-coms with a little more coming-of-age heart and soul, this movie (based on the hit, British YA novel Angus, Thongs and Full-Frontal Snogging) does the job very nicely.
John Tucker Must Die
A lot of this one is very anti-rom, but it makes up for it in being extra, extra com, if you get what I mean. John Tucker Must Die focuses on three girls who are being two-timed (erm, three-timed?) by popular player John Tucker and decide to get even by recruiting a fourth girl to turn the tables on him.
Easy A
Do you remember reading The Scarlet Letter in high school and feeling like it was a tragically relatable story in modern times? Because Easy A shows how that's actually the case—but, you know, in a funny way.
Naomi and Ely's No Kiss List
Fighting over potential S.O.s is a surefire way to ruin a friendship, which is why Naomi and Ely have a strict rule not to go after people they both like. Those people are placed on a No Kiss List, a system that works great until they both fall for the same guy and the whole "off-limits" list falls apart.
Source: Read Full Article