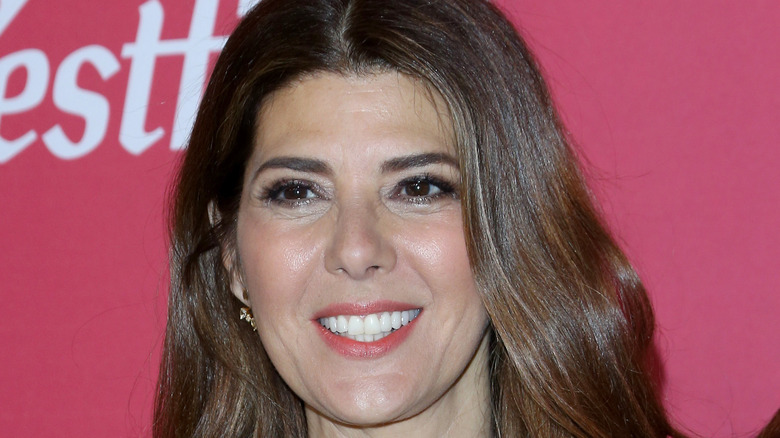 When most people think of Marisa Tomei, they can practically hear her in her most iconic role as the loudmouth car expert with the thick Brooklyn accent in the 1990s comedy, "My Cousin Vinny," a role Tomei won an Academy Award for, according to Famous People. But there's so much more to Tomei than the iconic fast-talking character of Mona Lisa Vito.
It turns out that thick Brooklyn accent came naturally to Tomei, as she was born in Brooklyn, New York, in 1964, and the acting bug bit while she was still in school participating in theater productions. Still, she went on to college, and that's where her big break came. At Boston University she would land her first TV role and that role would change her life forever, turning her into the Hollywood marvel she is today. She may have made the move to New England to attend Boston University, but she quickly found herself back in New York City (via Biography).
The soap world gives Marisa Tomei her big break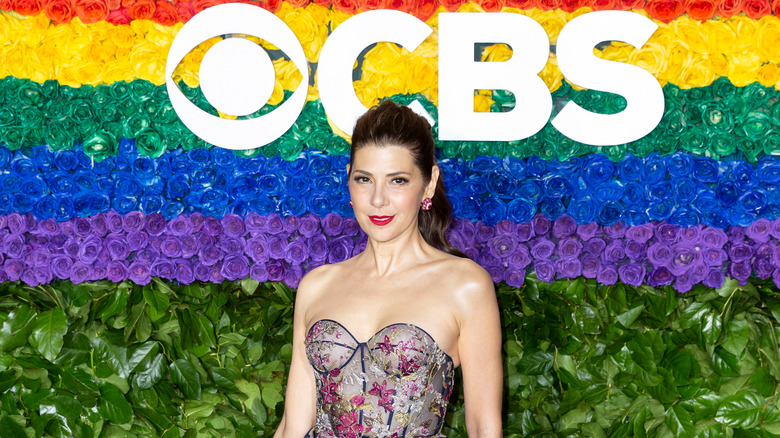 Marisa Tomei was still a teenager when she landed the role of another teenager — Marcy Thompson — on the long-running CBS soap opera "As the World Turns," according to Biography. Before she knew it, she was adorning the covers of all the soap magazines and made quite a splash during the two years she was on daytime, from 1983 to 1985. "As the World Turns" was taped in Tomei's native New York, but it wasn't long before Hollywood came calling.
It was while Tomei was still playing her soap role when she made her feature film debut in "The Flamingo Kid" opposite Matt Dillon. She wasn't the star, but Tomei got her first taste of an acting world beyond daytime. She eventually left the soap world in 1985 and got her feet wet in New York theater before making that big move to Los Angeles to see if she could land more movies and become a star (via Biography).
It's A Different World for Marisa Tomei in Hollywood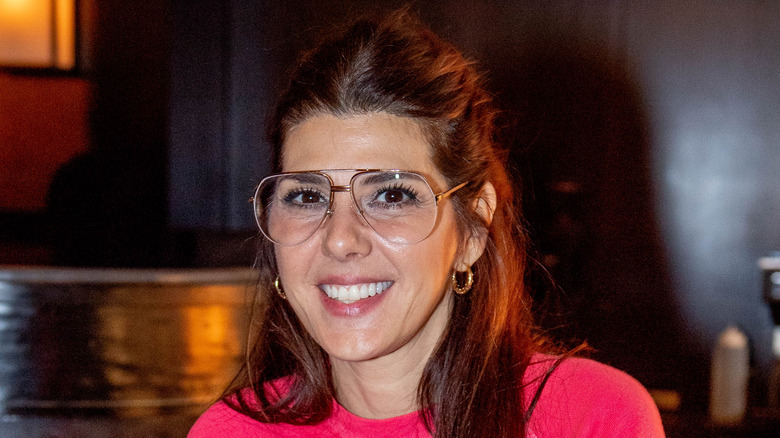 By 1987, Marisa Tomei was already known to daytime television fans, but she was soon to become known to primetime TV fans, as well, when she landed the role of Maggie on "The Cosby Show" spin-off, "A Different World." Maggie was originally supposed to be played by another soap alum, Meg Ryan, but plans were scrapped at the last minute and Tomei got the role, which had been scaled back at this point (via Mental Floss).
Although Tomei was only on "A Different World" for one season, it did help her become known in the Hollywood world. And it also earned her a bestie for life. Lisa Bonet was "The Cosby Show" star the sitcom was originally built around, but she also left the show after just one season. Still, Tomei and Bonet remained great friends and Tomei is the godmother to all three of Lisa Bonet's children, according to Mental Floss. Sometimes one year on a television set can change the rest of your life in many ways.
An iconic role and stunning Oscar win for Marisa Tomei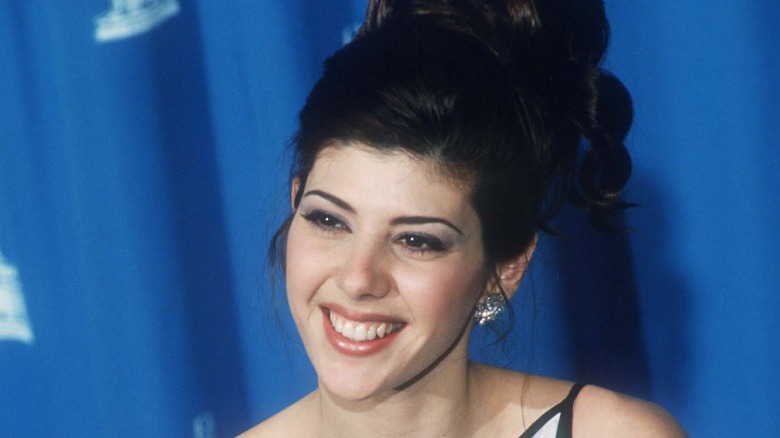 When Marisa Tomei landed the role of Mona Lisa Vito in the 1982 flick, "My Cousin Vinny," nobody expected it to be a breakout role and for the film to be as successful as it was. Tomei was cast as the fiance of Joe Pesci's character, the daughter of a mechanic who seemed to know everything there was to know about cars. Mona traveled with Pesci's character, Cousin Vinny, to defend his college student cousin against criminal charges in a small Alabama town (via Showtimes.com).
It was Tomei's monologue on the witness stand, where she quickly and succinctly points out the difference between tire marks from one classic car to another that got Vinny's cousin off and won Tomei a very surprise Academy Award for Best Supporting Actress. In fact, the win was so surprising that conspiracy theories live on that Tomei didn't really win. Mashable traces the rumor back to an actual 1994 report in The Hollywood Reporter and Entertainment Weekly that presenter Jack Palance couldn't pronounce the name on the card, so he read the last name appearing on the teleprompter and that name was Tomei's. There has never been any proof of truth to this rumor.
Marisa Tomei as an Oscar winner in Hollywood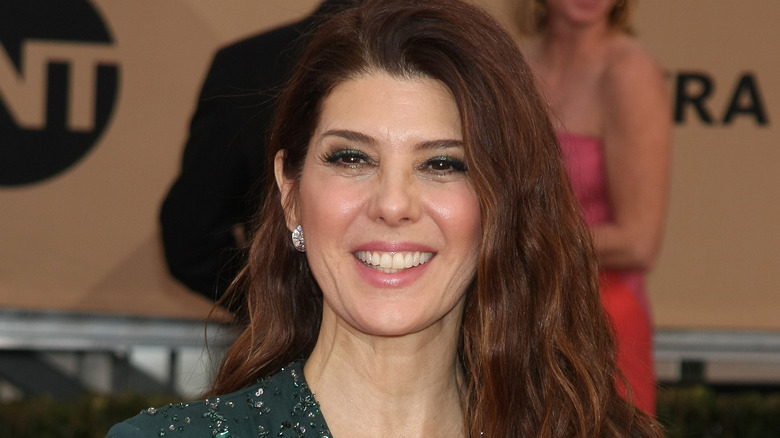 Marisa Tomei's career did not begin and end with her Oscar for "My Cousin Vinny," but it didn't lead her to a slew of box office hits either — at least not right away. She definitely found work again and appeared in a number of Hollywood films that fell just short of being hits. You can catch Tomei on streaming channels in flicks like "Chaplin" with Robert Downey Jr, "The Paper" with Michael Keaton, and "Untamed Heart" with Christian Slater (via IMDb).
Tomei appeared in another film with Downey Jr. after "Chaplin." They also starred in "Only You," with the actor and Biography reports that the two even shared a romance. He also wasn't the only actor Tomei has been romantically linked to. She was also with singer Lenny Kravitz at one time, and had a long-term relationship with actor Logan Marshall Green. However, Tomei has opted to never marry, with work being her primary focus.
A Marvel-ous new character for Marisa Tomei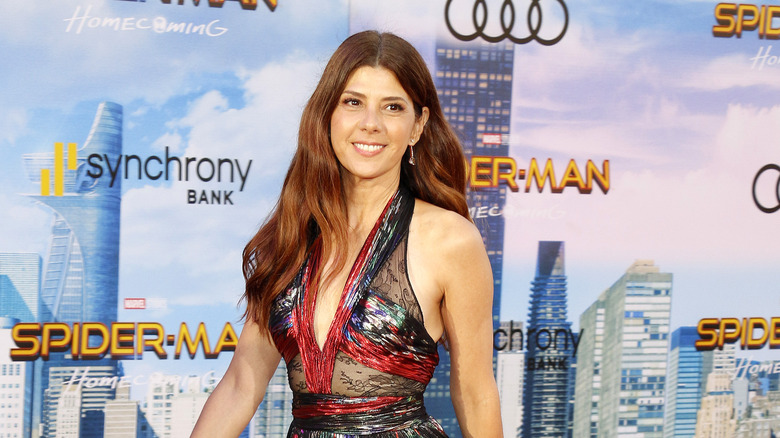 Over the last decade, Marisa Tomei has become known to a younger generation of moviegoers as she's starred as Aunt May in Disney-Marvel's "Spider-man" series of films. Aunt May is guardian to teenager Peter Parker and is one of the only people who knows that he is really Spider-man, a vigilante crime fighter on the streets of New York who eventually joins The Avengers (via Marvel).
Tomei has also had guest roles on several television series, including Hulu's "The Handmaid's Tale" and Fox's "Empire." As of this writing, she has several new projects in the works. Another "Spider-man" sequel, titled "Spider-man: No Way Home" is in post-production, as is a film called "Delia's Gone." Another film, "She Came To Me," is in pre-production (via IMDb).
For nearly four decades, Marisa Tomei has enjoyed an acting career that's brought her accolades, a memorable Oscar, godchildren, and romance — and it looks like she's still ready to take on more.
Source: Read Full Article