Meghan Markle celebrated her 40th birthday on August 4, 2021. The Duchess of Sussex is believed to have spent the day quietly, at home with her husband, Prince Harry, and their two children, Archie and Lilibet Diana, according to Harper's Bazaar. To kick off the next decade of her life, Meghan launched a new initiative by way of the Archewell website. Said new initiative, called 40×40, saw Meghan asking 40 of her closest gal pals to donate 40 minutes of their time to mentor a woman who was getting back into the work force after losing her job during the coronavirus pandemic.
It is believed that Meghan received plenty of love from her family and friends on her birthday. In addition, she received well-wishes from her in-laws; many of Harry's family members, including Queen Elizabeth and Prince William, posted messages on Instagram in honor of Meghan's special day, according to Cosmopolitan. There is one person in particular, however, who actually sent Meghan a gift — but she allegedly didn't respond to it in any way. That person? Was Meghan's estranged father, Thomas Markle. Keep reading to find out what he sent to Meghan's home in Montecito.
Meghan Markle's father claims his gift didn't get a response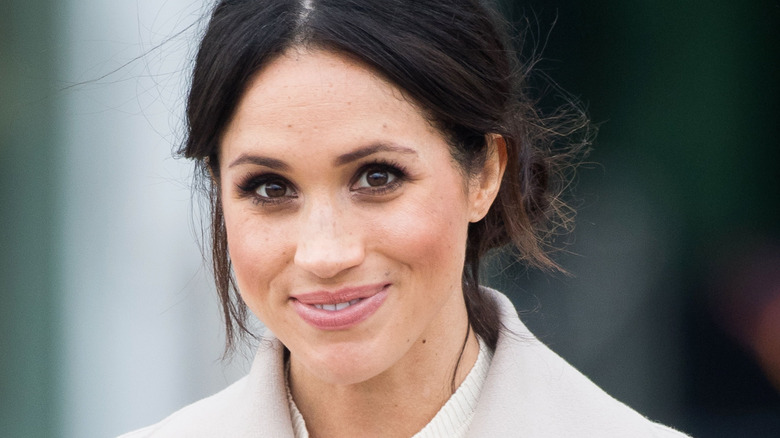 Meghan Markle's father, Thomas Markle, told TMZ that he had flowers sent to her home in honor of her 40th birthday. Thomas shared that he included a personalized message, but kept it short and sweet. "Wishing you a happy birthday and brighter days," the greeting read. In an effort to show his recognition of Meghan and Prince Harry's two children, Thomas sent an arrangement of one dozen red roses with "[two] yellow roses in the middle," meant to represent Archie and Lilibet Diana. While Thomas said that he didn't even receive so much as a "thank you" from his daughter, he doesn't seem to be letting that get to him. "He's just hoping she likes the flowers," TMZ reported.
Thomas has spent the past two years trying to get back in his daughter's good graces after their relationship was damaged in 2018. During her March 7 interview with Oprah Winfrey, Meghan explained that she broke things off with her father after he lied to her about his relationship with the press, according to Buzzfeed. The Duchess of Sussex explained that she cut her dad out of her life as a way to protect her family. Despite Thomas' efforts to reestablish a relationship with his daughter — by way of doing interviews with the media — Meghan has not responded.
Source: Read Full Article