Being a celebrity — or even the child of one — definitely has its perks: fame, money, power. But the price of being famous is living under a microscope, with countless strangers speculating about everything from your personal beliefs to your mental health. Ariana Biermann, daughter of "Real Housewives of Atlanta" star Kim Zolciak-Biermann, is learning this the hard way. The 19-year-old social influencer's recent Instagram photos — many of them showing her in bathing suits and crop tops — reveal that she has lost a good deal of weight over the last year. Naturally, nosy followers began murmuring online that Biermann must have developed an eating disorder to have dropped the pounds so quickly.
Fed up with the gossip, the teen wrote a detailed response on her Insta Story feed explaining that her so-called "overnight" weight loss was actually a gradual journey that began two years ago. She weighed 167 pounds during her sophomore year of high school, and she lost nearly 20 pounds that year. Then in January 2020, Biermann decided to amp up her exercise and diet efforts, and thus got down to her current 118-pound goal.
"I do not have an eating disorder," she declared (via Us Weekly). "I worked my a** off to get to where I am today. I am not sick. This is ridiculous and awful to say to someone. Stop commenting on peoples [sic] bodies and worry about yourself."
Ariana's Housewife mom did some clapping back of her own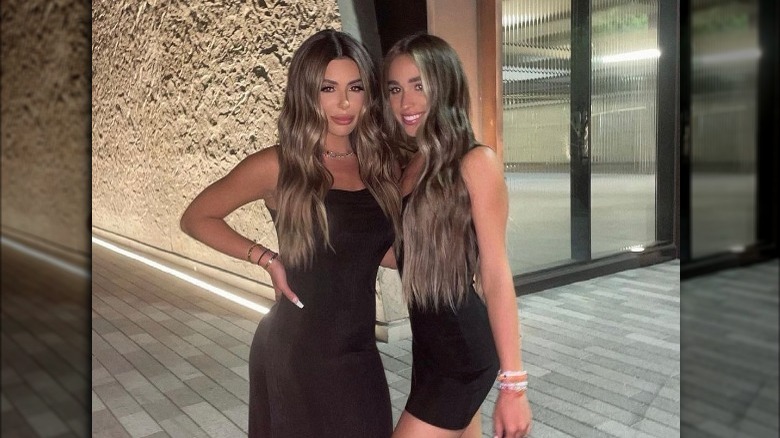 To emphasize that she didn't lose weight "overnight," Ariana Biermann wrote a second Story on her feed that elaborated on her slim-down plan. It was a journey that involved cutting calories, giving up sugary sodas, intermittent fasting, and daily runs with a waist trainer even in sweltering heat. "It was not easy," she said. "But it was the best thing I ever did for myself and my body… I'm so happy with myself. I've never felt so beautiful" (via Us Weekly). Her Instagram feed shows that she has partnerships with the Flat Tummy app and the FabFitFun subscription box, which she also credits with helping her achieve her weight and fitness goals.
Biermann also knows she has someone in her corner to stand up against the nosy fans: her mom. The "Don't Be Tardy" star has also gotten snarky comments on her daughter's slim figure, and she doesn't hesitate to let the haters have it. To one recent critic on Instagram who commented on Ariana's body in the photo shown here, Kim Zolciak-Biermann wrote, "Let me tell you what we are NOT going to do. We are not going to comment rudely on my page about MY daughter. She is dedicated to health and fitness. She feels the best she ever has!!"
The grateful daughter replied to her mother, "Love u sm [so much]."
Source: Read Full Article