Meghan Markle suffered a blow before her trial against Associated Newspapers even began, and her camp made it clear that she and Prince Harry weren't backing down. But sadly, it seems like their court battle has come to a close because the judge overseeing their case didn't rule in their favor, per Entertainment Tonight.
Since it's unclear of what Meghan and Harry will do after this, you're going to want to read up on all the details…you know, in case anything else happens. Spoiler: This entire drama has loads to do with Meghan's tense relationship with her estranged father, Thomas Markle, the texts they exchanged before her wedding, and the edited private letter that the Daily Mail published.
Sometime in August 2018
Meghan sends a five-page letter to her father, which will later become the center of a lengthy legal battle between the royals and Associated Newspapers, the publisher of UK tabloids Daily Mail and Mail on Sunday.
December 17, 2018
Thomas continues to be a pain in the royal family's side and claims he texts Meghan every day but she's "ghosting" him. He told ITV, "For that incident I've apologized 100 times—I don't feel that's worthy of being shunned or ghosted, that's ridiculous." Sure, Jan.
WORLD EXCLUSIVE
'We're family. Please reach out to me.'
Meghan Markle's father Thomas says he tries to reach out to his daughter every day but hasn't had a [email protected] | @susannareid100 | #GMB pic.twitter.com/o4VgU96SGD
February 10, 2019
And so it begins. The Daily Mail got its hands on the letter Meghan sent to Thomas and published it in all its edited glory. (Meghan would later say it was an attempt at making her look bad.) Here's a little sample of what the outlet published:
On top of publishing this, the Daily Mail also enlisted a "handwriting expert," who claimed Meghan's letter suggested she was "ultra cautious," a "showman and a narcissist," "materially motivated," and "a consummate performer and strategist."
As a totally objective outsider with absolutely no personal interest in the matter, those sound like fighting words.
February 23, 2019
Meghan threatens to sue "under the Copyright, Designs and Patents Act for publishing a private letter she sent to her father." According to The Guardian, Meghan's reps have "been in touch" with the outlet since the publication of the letter.
Lawsuit coming in 3…2…
October 1, 2019
It's official. Meghan and Harry are suing Associated Newspapers. In a lengthy statement on the official Sussex website, Harry wrote:
When the lawsuit was filed, the Sussexes' reps from Schillings law firm stated the outlet's choice to publish the letter was "intrusive and unlawful" and part of "a campaign by this media group to publish false and deliberately derogatory stories about her as well as her husband."
Formally, they're suing for "breach of privacy," copyright violations, and "the aforementioned media agenda."
October 4, 2019
Not to be confused with the letter case, Harry files a separate lawsuit. This time, he's going after New Group Newspapers (publishers of The Sun, the Daily Mirror, and the defunct News of the World) for allegedly hacking their phones.
In short: Their lawyers are b-u-s-y.
ITV's @tombradby spoke to Meghan as he gained exclusive access to the royal couple as they toured Africa for 10 days with their son Archie.
The documentary, Harry & Meghan: An African Journey, airs on Sunday at 9pm on @ITV #HarryandMeghan https://t.co/Uy21iE6ozJ pic.twitter.com/XYlHVytiHF
November 15, 2019
More details about the court documents surface, and it's clear Meghan has a lot to be upset about. In addition to providing her perspective on her relationship with her dad, Meghan's lawyers refute several rumors about her within the lawsuit.
Remember when the outlets claimed she was indirectly supporting murder because she likes avocados? She begs to differ. And remember when everyone thought she constructed an entire yoga studio in the palace? Fake news. And as for her upbringing, she is not from "gang-scarred" Compton, contrary to what the outlets published.
January 15, 2020
As Associated Newspapers claims the royals "rely on publicity about themselves and their lives in order to maintain the privileged positions they hold and promote themselves" and therefore would deny any wrongdoing in the lawsuit, it becomes clear that Thomas may be called to testify. Clinging to relevancy (sorry, but it's true!), Samantha Markle made sure to comment on this matter and said that her dad would cooperate if the court needs him to speak about the evidence used in the case.
April 20, 2020
As both legal teams gear up for the pretrial hearing, everyone discovers that Meghan learned of her dad's alleged heart attack through the news. Several outlets publish the texts she and Harry sent to her dad leading up to the wedding and after his health scare, and they're so heartbreaking.
When it became apparent that Thomas staged those infamous paparazzi photos and wouldn't be attending their wedding, Meghan and Harry texted him several times. These are just a couple of the texts from Harry:
And after Thomas suffered from a (possibly fake) heart attack, Meghan texted him:
When she didn't hear back, Meghan texted Thomas telling him that she and Harry ultimately decided to send their security team to make sure he is safe. And days before their wedding, she sent another saying, "I've called and texted but haven't heard back from you so hoping you're okay."
April 24, 2020
Because of the ongoing pandemic, the court hearing is taking place remotely and Meghan had to call into the first proceeding from her current residence in Los Angeles. This first hearing is the "strike-out hearing," which means Justice Mark Warby will decide whether he will "strike out" Meghan's allegations that the outlets engaged in "improper conduct."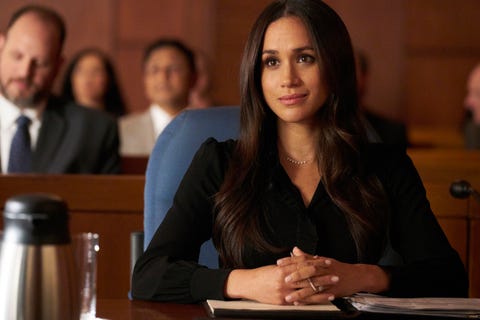 April 25, 2020
Ugh, now, Meghan's friends might be called to testify. Apparently, Associated Newspapers claimed Meghan compromised her own privacy when she allegedly allowed five friends to "leak details about the letter" to People magazine before the Daily Mail actually published excerpts.
Meghan's team denied this, of course, and claimed she "did not know that her friends were giving an interview to People magazine, let alone that one of them would refer to the letter."
May 1, 2020
Meghan received a major blow to her case. The judge sided with Associated Newspapers after the pretrial hearing and struck out Meghan's claim that the outlets "acted dishonestly and in bad faith," "deliberately dug up or stirred up conflict between Meghan and her father," and had an "obvious agenda of publishing intrusive or offensive stories about [her] intended to portray her in a false and damaging light."
Although this is a disappointing start for Meghan, her counsel, who previously represented Princess Diana, won't be "deterred from continuing with the case."
July 1, 2020
E! News obtained court docs from Meghan's case against Mail on Sunday and it's clear that the constant tabloid reports caused her "tremendous emotional distress," which added to the burden of already feeling vulnerable within the royal family. According to the court papers:
July 9, 2020
Meghan just accused the Mail on Sunday of trying to name five of her friends who spoke about her in a 2019 People interview under the condition of anonymity. To her, this was a "vicious" attempt at creating "clickbait" content and could damage her friends' mental health. Meghan's lawyers made a formal application to block Associated Newspapers from naming her friends, and Meghan stated:
July 17, 2020
According to new court documents obtained by The Mirror, Meghan denied her father's claims that she never helped him financially. Ugh, can someone tell Thomas that it's a parent's job to financially support their kid and not vice versa?
Thomas claimed he paid for all of Meghan's college tuition, but she refuted that, saying her mother helped and she earned a grant and worked multiple part-time jobs to afford it. Meghan said she began voluntarily giving Thomas money in January 2014 and stopped when she married Prince Harry in May 2018, which was also around the time Thomas got super messy in the press.
If Meghan wins this lawsuit, she intends to donate all the money to an anti-bullying charity.
August 5, 2020
A victory for Meghan! CNBC reports that Meghan just won a preliminary trial matter that'll help keep the names of five friends who spoke anonymously to People private and out of the tabloids.
Judge Mark Warby ruled that the sources' names cannot be published as part of her legal action against British tabloids, just as Meghan was hoping.
This whole anonymity thing was more of a precursor to the main full trial (which will likely happen next year), but hey, a win is a win.
September 20, 2020
According to The Guardian, Associated Newspapers sought permission at a recent hearing to amend its written defense to argue that Meghan "cooperated with the authors of the recently published book Finding Freedom to put out their version of certain events," but her lawyers strongly deny it.
Meghan's lawyer Justin Rushbrooke QC reportedly said, "The claimant and her husband did not collaborate with the authors on the book nor were they interviewed for it nor did they provide photographs to the authors for the book."
Rushbrooke said Harry and Meghan did not speak to authors Omid Scobie and Carolyn Durand, who he added "were not given the impression that the claimant wanted the contents of the letter to be reproduced in the book."
September 30, 2020
Welp…according to Entertainment Tonight, Meghan lost part of her battle with the Daily Mail and Mail on Sunday's publishers. The ruling reportedly states the publishers are allowed to "use the contents of a recent behind-the scenes book about the Duke and Duchess of Sussex in its legal defense for an invasion of privacy lawsuit brought by the duchess."
The judge overseeing the case, Francesca Kaye, has also granted Associated Newspapers Ltd. the ability to add "further particulars" with Carolyn Durand and Omid Scobie's Finding Freedom book.
November 19, 2020
New update in the case: According to Vanity Fair, Judge Mark Warby publicized a written statement Wednesday ruling there is no need for Meghan's dad Thomas Markle to be called to give evidence, since he's not "an important witness."
"It was not immediately obvious to me why he was considered to be important," Warby said. "It is not suggested that Mr Markle's evidence … is an essential component of the defence case."
Separately, new court docs filed Wednesday and obtained by E! News reportedly clarify the royal's involvement in the biography Finding Freedom. Her lawyers state neither Meghan Markle nor Prince Harry ever spoke with or collaborated with the book's authors, Omid Scobie and Carolyn Durand, but the legal rep did say Meghan spoke to a friend whom she knew was working with them.
"The Claimant [Meghan] was concerned that her father's narrative in the media that she had abandoned him and had not even tried to contact him (which was false) would be repeated, when in fact she had tried to call him, and text him, and had even written a letter to him to try to persuade him to stop dealing with the media; and he had written back to her," the docs reportedly state.
Source: Read Full Article