Lil Nas X is making amends with the trans community.
The Montero artist is in the hot seat after being accused by fans of mocking the trans community in a series of since-deleted tweets. Tuesday, the 23-year-old uploaded a photo of social media influencer Glow Princess, AKA Armanda Tounghui, which he captioned, "the surgery was a success," joking that it was a photo of himself after he had undergone gender affirming surgery. See (below):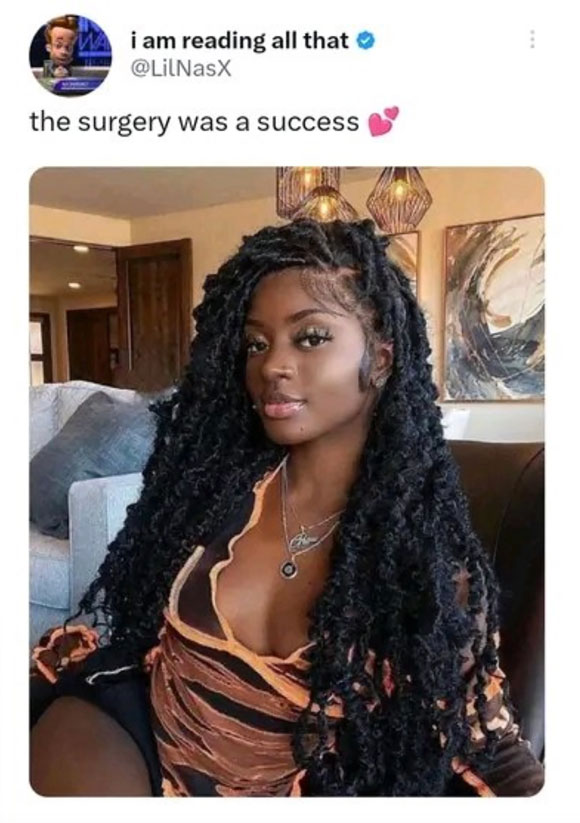 Varying takes immediately began pouring in, with one user in particular questioning why the Grammy winner, who has been such a strong LGBT voice, would make such a "joke":
"you're a gay cis male why are you making transitioning a punchline of a joke"
Minutes later, Nas defensively attempted to explain the thought process behind his controversial joke, saying:
"im literally just saying she looks like me y'all cannot be f**kin serious"
Another user then asked, "why did he have to mention surgery tho" to which the Industry Baby singer flippantly answered:
"because she has titties? are u dense ?"
Many social media users took issue with not only his initial tweet, but his heated responses defending himself. They just weren't here for any trans jokes as many regions of the United States are ushering in a wave of anti-LGBTQIA+ legislation. One fan explained: 
"Currently in america the trans community is being attacked both physically and legally by denying them care"
The user added that the Old Town Road singer's remarks were "tone deaf" since "real trans people are being oppressed every day."
After a bit of self-reflection, the Am I Dreaming singer returned to Twitter and issued an apology:
"apologies to the trans community i def handled that situation with anger instead of considering why it was not cool. much love to you guys. sorry"
The apology was welcomed with open arms, with one user writing:
"Thank you much appreciation for the apology. (As you clearly get now) no one wanted to cancel you, and no one thought the hoke was intended to be harmful, it's just a really sensitive time for us in the world right now and sometimes things that aren't intended to hurt still can"
However, it didn't take long for the Scoop singer to settle back into his signature trolling ways after another user, who wasn't as quick to accept his apology, demanded "material" forms of repentance: 
"Baby, this apology ain't it! You need to apologize too the trans community in material ways that include money, sharing your platform to raise a awareness and just keep it! This is fake as hell!"
Nas X, whose real name is Montero Lamar Hill, quickly hit back:
"girl eat my ass"
See (below):
DAMN! That was a quick turnaround, LOLz!
What are your thoughts on the whole controversy? Do YOU think he was mocking transitioning, Perezcious readers? And if so do you accept his apology? Let us know in the comments down below! 
Source: Read Full Article