Irina Shayk knows she is one hot catch!
The Russian supermodel reminded us all that she's doing just fine following her reported split from Bradley Cooper late last week, with a sexy, new set of photos on Instagram.
Because after an uncomfortable, public breakup — why not, right?
Over the weekend, the 33-year-old beauty skipped town, and traded being hounded by paparazzi for a stunning, Icelandic getaway with friends. 
She clearly enjoyed the countryside's gorgeous, natural scenery and paused for a moment to document herself taking in the views.
Ch-ch-check out Bradley's ex showing off her best assets (below):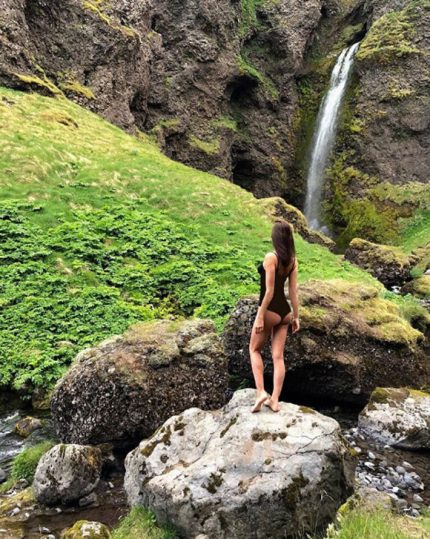 The shot doesn't show Irina's face, but it does put her perfectly toned body on display in that sexy, black swimsuit. That free-flowing waterfall in the background's got nothing on her! DAYUM!
The thirst trap has already garnered over 500,000 likes and a ton of supportive comments from other celebs and fans alike.
But users quickly noticed that one of those likes from Christian Carino. Yup, you read that correctly. Lady GaGa's ex was feeling that shot, too!
Could he be plotting to make a move now that they're both single?! Are we stretching this?! Possibly… but moving on!
On Monday, Shayk shared another cool shot from her travels. See her looking cozy in nothing but a soft, oversized sweater and socks (below):
Judging by the caption of her photo, where she tagged Italian cashmere brand Falconeri, this must have been a work trip. She is a working model after all, guys!
Shayk also posed for a selfie with photographer Giampaolo Sgura and Ali Kavoussi, one of the managing partners of The Lions modeling agency.
See (below):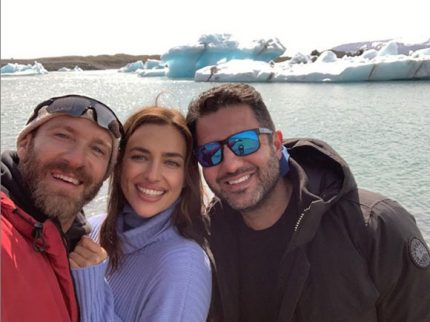 If we're being honest here, this scenic getaway couldn't have come at a better time. There's nothing like a little work and play to temporarily take your mind off a bad breakup!
Ironically enough though, diving into work to avoid confronting any personal issues at home is supposedly what landed the couple in this position in the first place.
As we reported, sources close to the pair credited Cooper's insane, shooting schedule and long work hours spent creating A Star Is Born as part of why they called it quits. The distance and time apart made it hard to get back to the magic they once had.
Additionally, an insider told ET last week that Shayk and Cooper's split was "no surprise," even though the supermodel initially "had high hopes" for her life with the 44-year-old actor. They shared:
"Recently Irina decided enough is enough. She didn't feel she was getting the level of commitment she wanted and the endless fighting made their life unbearable. They are very different people and once they realized it was the baby that was holding them together, it was time to call it quits."
Thoughts, Perezcious readers? How do YOU guys feel about all this?
Sound off in the comments below!
Source: Read Full Article