Step on over for some YouTuber tea! In a new interview with W, Emma Chamberlain opened up about the downside of being friends with other YouTubers. She said that she's been stabbed in the back by fellow YouTubers "at least 10" times.
"I've dealt with a lot of people with bad intentions," she says. "Just because somebody has a following does not mean that they are a good person or a good friend. And I should have known that. I've fucked myself over a few times believing that. I don't know why I thought there was a correlation—if anything, I prefer to have friends who are maybe not even YouTubers.
"Four of my best friends are YouTubers, but that's just a coincidence. I've been backstabbed multiple times—literally, at least 10, just off the top of my head—by other YouTubers, and it's awful."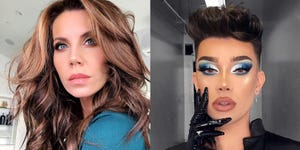 Although Emma doesn't name names, her friendships have been pretty public in the past because, duh, they're all on YouTube. She's made tons of videos with fellow YouTubers the Dolan twins, and she had previously made lots of videos with James Charles, Hannah Meloche, and Ellie Thumann, but they've been noticeably absent from her YouTube and other social-media channels recently.
A Family Portrait
A post shared by ☆ emma chamberlain ☆ (@_emmachamberlain) on
She also talked about not using her platform to hate on other people.
"I don't need to bash," she said. "It's unnecessary. What does it do for me? If I have something not positive to say, I'll keep it to myself…"
"Let's say another YouTuber rates my outfit from Coachella, right?" she said. "They are completely entitled to their opinion, and I actually really loved my Coachella outfit. If they say, 'This is ugly,' and even if I don't think it's true, it's a mood killer. And you would never say that to my face. I don't like to say things that I wouldn't want to say to someone's face. Those are my morals for life."
UMM damn. DYING to know who that's about.
Source: Read Full Article