GMA3 anchor Amy Robach has found love again in recent months after going public with her co-star T.J Holmes. But her top Instagram post may surprise you – as it features her estranged husband, Andrew Shue.
MORE: Amy Robach's daughter celebrates milestone birthday in New York City while the anchor vacations with T.J. Holmes
The post, which was shared in January 2022, featured Amy and Andrew in a close hold as they celebrated the University of Georgia winning the 2022 College Football Playoff National Championship.
WATCH: Amy Robach and Andrew Shue's awkward interview with T.J. Holmes
The app Top Nine revealed the post was Amy's most popular of the year, receiving over 25.9k likes.
"This is what 42 years in the making looks like #victory #godawgs #hellyeah," the post was captioned.
MORE: Amy Robach's estranged husband Andrew Shue is supported by sons in new family photo
The Good Morning America host had flown to Indiana to cover the final game between the University of Georgia's Bulldogs and University of Alabama's Crimson Tide, and husband Andrew joined her for the special game.
Amy's second favorite post of the year was one of her more recent, shared in early November as she completed the New York marathon. The series of pictures included several of Amy with T.J with whom she ran the marathon.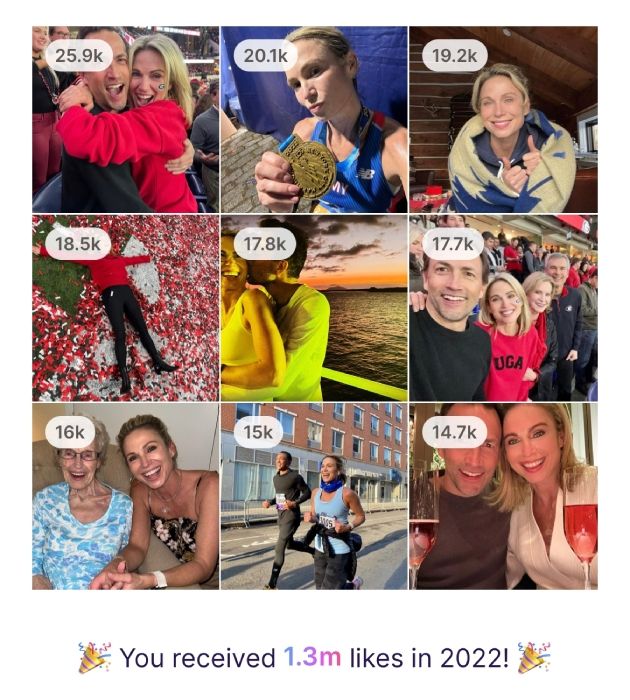 "4 marathons… 2 in the last 4 weeks… NO WAY I could ever have accomplished this alone! I love this running crew so much. We encourage each other, train together and finish together. Thank you to everyone who came out to line the streets of the 5 boroughs to cheer us on… there's no greater city in the world!!" she captioned the post.
Andrew featured in three other posts for her top nine, while her eighth favorite featured her running with T.J in preparation for the marathon.
Amy returned to social media on 30 December and surprised fans by not deleting any of her past images with her estranged husbands. She deactivated the account in November, following the first reports of the affair with co-star T.J.
Both GMA3 co-stars have separated from their respective partners; T.J. filed for divorce from his wife of 12 years on 28 December, the Daily Mail reported.
Source: Read Full Article